By Andrew Firestone
Even in Red Sox nation, propaganda is a loaded term. How can one hope to capture the vitality and vigilance with which the Boston faithful hold onto their beloved team with something so simple as a drawing? In Somerville's own Chris Speakman, 11-year resident of Winter Hill, they seem to have found their Pablo Picasso, or Norman Rockwell, if you will (both propaganda artists for Spain and the U.S. respectively). With Speakman's understated, yet powerful images on posters and placards depicting heroes of America's pastime, there seems to be little question of the effectiveness of this propaganda.
"I try to portray [baseball] in a way that is reminiscent of pop and poster art from wartime, World War Two: '30s, '40s '50s, the old propaganda style prints that were government issued, not just from the Americans but from the Russians, the Chinese, Germans and Japanese," said Speakman, owner and operator of Sports Propaganda, and creator of Major League Baseball's official 2011 All-Star Weekend poster. "I just was always interested in that kind of artwork. It was very appealing to me that it was so one-sided that it was absurd. It was completely offensive to the other side on purpose."
While America is a free and republican nation by nature, its sports teams seem to attract this very kind of satiating mob mentality, from prince to pauper alike, and particularly in the Greater Boston area. "We tend to overreact, particularly in New England to our sports teams," said Speakman of his art's appeal. "It's identification with the people around you, it's a common bond. That's what makes [the images] a little more grandiose. You're taking something and you're making it hyperbole in a way."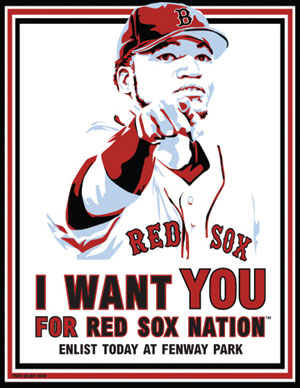 While Speakman may be humble about his own intentions, his art tends to speak for itself. He creates powerful handmade images are depicting Jon Lester, Clay Buchholz, David "Big Papi" Ortiz and Jacoby Ellsbury among others, all rendered in epic, minimalist gravity. Ortiz points out at the viewer, his subtitle reading  "I WANT YOU for Red Sox Nation." Fenway Park stands in dark reds and blues on a bright relief, with the words, 'The Battlefield Looms," emblazoned.
He even makes many by hand, diligently layering the ink through his vector art stencils and silkscreen onto cotton paper. "It takes me through the entire creative process, from sketching with a pencil, to actually using my graphic design background on a computer to getting messy with the ink," he said.
The art is geared towards fans both facile and hardcore, and Speakman said he tries to not aim for the lowest common denominator through his demagoguery. "I'm going to assume that you understand the thought of why I put on my Kevin Youkilis design, 'More Production' because I'm assuming that you know that his value is his production: not necessarily his power numbers or speed, but the intangibles. I'm assuming that, you as a Red Sox fan, you know that, and if you don't, that's OK you'll learn. Or not, maybe you won't even bother."
"[Red Sox nation] runs the gamut of the old crusty guy from Southie who's reminiscing the Big Bad Bruins of the '70s, and what it was like when he was a kid when Jim Lonborg threw a no-hitter in '67, all the way to the girl wearing a pink Red Sox hat running around saying 'I love David Ortiz' and she doesn't really even know what position he plays. It doesn't matter. You can enjoy sports on any level that you want. I'm not going to talk down to you as a sport fan."
A graduate of the University of Hartford, Speakman developed his style for over a decade, until in 2007, his depiction of the Red Sox World Series championship team brought him notoriety. Soon, he was working on a deal with Dunkin' Donuts, printing five million posters, and landing him a license as an artist with the MLB. As of now, he does prints with the likenesses of all the great MLB players and teams, not just the Sox, through deals with the Players' Union and the Baseball Hall of Fame.
His subjects have been said to enjoy their depiction. Speakman remembers one particular instance where Jon Papelbon, the Red Sox closer, was taken aback by the image during a signing. "He kind of steps back and he looks at it and he goes 'this is really cool,'" remembered Speakman. "It hit him that he was really signing something he liked." "Can I get one of these," Papelbon asked, and Speakman obliged.
Even with his recent All-Star Poster, and his continuing work with the Boston Red Sox, Sports Propaganda remains his private business, and he hopes for bigger and more high profile jobs to come his way, perhaps even the World Series art this year. You can find out more by visiting his website, http://www.sportspropaganda.com/.