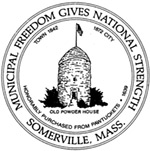 As you know, getting a flu vaccine is one important step you can take to keep you and your family healthy, and it is terrific that many of you are trying to make plans to get vaccinated.
The City  will be conducting flu clinics (for adults and children 3 years of age and older) every Thursday evening at the Health Department, 1st floor City Hall Annex (50 Evergreen Avenue) from 5-7 P.M until December 15. Parents must accompany their children in order to provide consent. They will be offering vaccine at no out-of-pocket charge during these clinic hours, but if you are insured, please bring your card with you as we may be able to recoup a portion of the cost of providing this service. Please call the Public Health Nurses at 617-625-6600, ext. 4320 or ext. 4306 if you have any questions, including scheduling an appointment after December 15.
As is always the case in flu season, take care of yourself, cover your cough; wash your hands often.