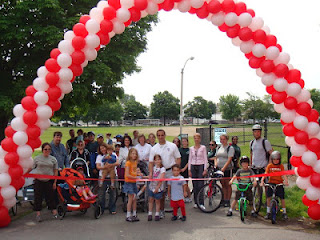 Residents Invited to Submit Applications of 100 Words or Less to Join Competition, Receive Fitness and Nutrition Coaching from Mayor; Up to 3 Spots Available
With the March 31st kick-off of the City's third annual Fitness Challenge less than two weeks away, Mayor Joseph Curtatone has announced that the City's ResiStat program is offering Somerville residents up to three positions on his personal fitness challenge team. One of the staples of the Fitness Challenge, which encourages community members to embody the Shape Up Somerville motto, "Eat Smart, Move More," is a friendly seven-week contest among teams that compete to achieve positive changes in weight loss and Body Mass Index (BMI). Residents interested in joining the Mayor's team should submit a short note, no longer than 100 words, explaining why they should be on the team. Entrants (and all Fitness Challenge Team members) must be aged 18 or older. Entries may either be emailed to ResiStat Coordinator Denise Taylor at ResiStat@gmail.com or posted to www.facebook.com/SomervilleCity; the deadline for submission is Monday, March 26, at 3 p.m.
"Being part of the Mayor's Team is a great way to get fit, get useful nutrition and lifestyle tips, learn about the City's shape Up Somerville initiatives and spend some quality time with the Mayor," said Taylor. "The Mayor's past teams have accommodated adults of all ages and fitness levels, and this one will, too. But the Mayor makes a real commitment to this effort, and he expects that his team members will do the same."
"Our team came in second overall last year," said Curtatone, who brings years of experience as a Somerville High School football coach to the task of running a Fitness Challenge team. "This year we're going for the brass ring. I need team members who are motivated and willing to participate to the best of their ability. This will be work, but I promise that it will also be a lot of fun."
"Entrants will be judged solely on the quality of their submissions," said Taylor "The contest is designed for people who live or work in Somerville, but in the interest of SomerBridge relations, I have asked the Mayor to consider taking on a Cambridge resident if he or she makes a really compelling case for a special exception."
The ResiStat program is the City of Somerville's effort to bring data-driven discussions and decision-making to residents and promote civic engagement via the internet and regular community meetings. For additional information, visit http://somervilleresistat.blogspot.com/.