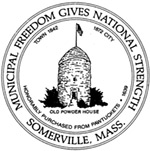 The Somerville Traffic & Parking Department invites all interested residents to attend a community Open House on Wednesday, May 2 at 6 p.m. to discuss an innovative new program pilot, entitled "Head-Out Angled Parking."
The meeting will be held at Properzi Manor, located at 13 Warren Avenue in Union Square.  The new parking program, set for a section of Bow Street this spring, will increase the total number of parking spaces for visitors by 90% while also enhancing pedestrian and bicycle safety.
The program will be discussed in more detail at the open house, however a brochure can be found on the city's website at http://www.somervillema.gov/ReverseAngleParking.  If you have additional questions, visit http://www.parksomerville.com/, email traffic@somervillema.gov, or call 311.