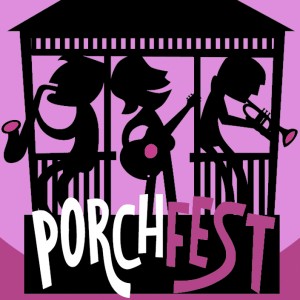 By Cathleen Twardzik
The second Somerville PorchFest will occur on May 19 from 12 p.m. to 6 p.m. The fest will feature musicians and bands, and it will celebrate and utilize an underused public venue: The porch. A rain date of May 20 is set.
Three time slots for performances are based on three quadrants of the city: East to Walnut Street will occur from 12 p.m. to 2 p.m., Walnut Street to Willow Avenue will occur from 2 p.m. to 4 p.m., and west of Willow Avenue will finish the day from 4 p.m. to 6 p.m.
This year, more than 85 acts, which range from Bollywood funk, to cosmic Americana, to killer blues, to Afrobeat, to Moroccan, to Balkan, to American space rock, to clawhammer banjo, and even to a video game tribute, will serenade passersby from porches throughout Somerville.
For more than 10 years, Tom Bianchi of the Baker Thomas Band has been doing The Burren Back-room Music Series in Davis Square. His band, the Baker Thomas Band, will perform at PorchFest at 2 p.m. at 12 Warwick St.
Bianchi plays bass and sings all of the songs. "The band is a big ol' party band, including drums, guitars, strings and horns." Why did he decide to participate in the fest this year? "Why not? I did it last year and it was a great time," said Bianchi.
The people who run PorchFest created the ambitious musical event in 2011. The idea was inspired by individuals who sit on their porches and hear a neighbor strumming a guitar on their porch. This is not a festival per se, but rather a community event, at which Somerville residents will share their love of playing and listening to music. Attendees are welcome to sing along with a live band for a Porch-i-oke.
PorchFest originated in Ithaca, NY, four years ago. When Nancy Goodman of Somerville discovered that event, she thought that Somerville should partake. She contacted the Somerville Arts Council last year, and the process took off rapidly.
Goodman decided to start PorchFest here because, "It seemed like a natural for Somerville. We have a lot of musicians, here, and certainly, porches. It seemed like a good fit."
There were 35 people at the initial planning meeting, and 75 musicians and acts registered to perform for the inaugural event in 2011.
The fest "seemed like a great, decentralized way to showcase the large music talent in the city," said Gregory Jenkins, Executive Director of the Somerville Arts Council. "It provides a forum for folks to just play music for neighbors and friends. It's more about the joy of sharing music than the production of music," he said.
In the future, Prochfest may add more amateurs, more multi-generational groups and families and more youth and seniors.
If you are a musician and would like to participate, as well as to be listed on the online map, then create a Somerville Arts Council (SAC) user account.
Individuals who are interested in registering are encouraged to include a good written description of their band, a photo, an mp3 and a website. This information will appear on each participant's individual PorchFest profile.
To see a full lineup of acts, to register to perform at the event, or to view the online map, visit, www.somervilleartscouncil.org/porchFest.
Additionally, the map allows people to watch the vast array of music, as well as porches, increase in number. To experience that, click on each band's name to access detailed profiles, or click on an address to highlight various locations on the map.
"Chris Mancini of the Pennies worked on the Google online map and listing last year. This year, we updated our Web site, so the bands could post/register on their own," said Jenkins.
The event was curated by the Somerville Arts Council and Mayor Curtatone.
Interested individuals may contact Nancy Goodman, Originator of Somerville PorchFest, at (617) 501-8543.