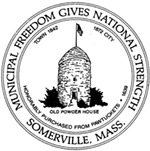 Events at Local Parks, Bicycle-Pedestrian Safety Campaign Kickoff,  All Events Free!
The City of Somerville will join more than 50,000 communities across 45 states this year for the second annual Kids to Parks Day.  A grassroots movement started by National Parks Trust, Kids to Parks events are planned nationwide to celebrate America's parks through active play on Saturday, May 19.  In Somerville, events are planned at several parks throughout the City, including Hodgkins-Curtin Playground, Albion Park, Lexington Park and the Community Path, Blessing of the Bay Boat House and Shore Drive, Prospect Hill Park, Perry Park, and Glen Park, and will include activities such as story time for kids, Zumba, bicycle safety programming and bike decorating with the Somerville Police Department, children's activities with Recreation Department programming for children, and much more!  Participating organizations include Corpbasics, Huan's Tai Chi, Ultimate Boot Camp, an African Drum Corps., and more!  Residents are encouraged to visit somervilleresistat.blogspot.com in advance to view a new, interactive map of Somerville parks, including tot lots, community gardens, and off-leash recreation areas for dogs.

Kids to Parks Day events in Somerville include (1 p.m.  to 3 p.m.):
• Perry Park: Children's activities
• Prospect Hill Park: Bring your kite and meet your neighbors for an afternoon of kite flying and/or a picnic!
•  Albion Park: Soccer and basketball with Somerville Recreation; Tai Chi and Kung Fu demonstrations by Huan's Tai Chi
•  Lexington Park: Recreation programming
•  Community Path at Lexington Park: Ultimate Bootcamp demonstrations, African drumming, and join the Somerville Police Department for an afternoon of bike decorating and bike safety demonstrations, and participate in a short bike parade with the Mayor at 3 p.m.!
•  Hodgkins Park: Recreation programming in the tot lot
Bike Parade and Bike-Pedestrian Safety Campaign Kickoff
Following the Kids to Parks Day celebrations, the Mayor and the Somerville Bicycle Committee invite community members to join them on the Community Path at Lexington Park to officially launch the City's Bike-Pedestrian Safety Campaign, a poster campaign designed to educate community members about safe driving and cycling regulations.  The launch will be held at 3 p.m.  and will include a brief speaking agenda, poster presentation, and bike parade along the path from Cedar Street to Willow Ave.  The poster campaign launch will coincide with the end of Bike Week 2012.
The City of Somerville has been recognized regionally and nationally for its commitment to active living and parks and open space.  Currently, there are 56 parks, playgrounds and/or community gardens located within its 4.1 square miles, of which more than 20 have been renovated since Mayor Curtatone took office in 2004.  Additionally, the City's commitment to active living can be seen in the more than 22 miles of bike lanes and sharrows that have been added in the last two years, along with 10 new bike corrals located throughout the City.  Somerville was named the 8th most bikeable and 10th most walkable community in the United States in 2011 by walkscore.com.  Residents and visitors may view a comprehensive parks list, complete with interactive mapping tool and photos, at somervilleresistat.blogspot.com.