Eagle Feathers #3 – All Hail to Hale!
By Bob (Monty) Doherty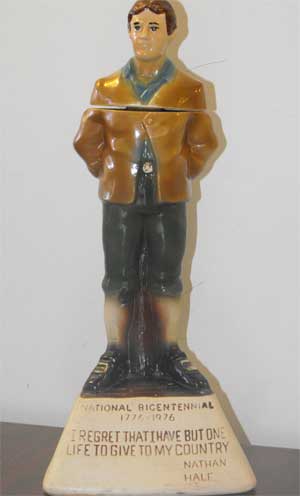 Heroes come in many different shapes and sizes and from all walks of life. A hero could be a schoolteacher, a military officer or sometimes both.  Such is the case with Nathan Hale, a true American hero. In his brief 21 years on earth, the Yale-educated man managed to become an accomplished Connecticut public school teacher, as well as the first member of what is now known as the Central Intelligence Agency. Hale spent the last year of his life in what is now Somerville, training under George Washington in the newly formed Colonial Army.
He quickly rose to the rank of Captain and commanded a company of Connecticut troops stationed at Winter Hill. With the battles of Lexington, Concord and Bunker Hill behind them, the army desperately needed to train itself in order to be prepared for the coming onslaught. With a passionate spirit, Hale trained the men of his company to be the best soldiers they could be.
His commander was Colonel Thomas Knowlton, namesake of East Somerville's Knowlton Street and Knowlton's Rangers.  A veteran of the French and Indian War and the battle of Bunker Hill, Knowlton began the first American Ranger battalion, of which Nathan became one of his captains. This was the special unit General Washington drew upon to obtain his volunteers for espionage when the fighting moved to New York City.
Hale was the only soldier to volunteer for the secret mission that would ultimately result in his capture and execution. He secretly posed as a Dutch schoolteacher while gathering information about the enemy troops occupying New York City.  On the way back to the American lines he was apprehended, coincidentally, by a squad of British rangers. He was condemned and executed for being a spy.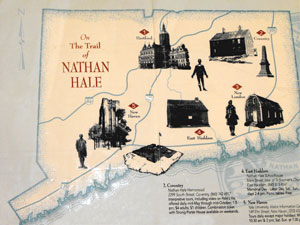 There is a well-known and poignant quote that he made before his death: "I regret that I have but one life to give to my country." Our country's first secret agent is honored at the CIA headquarters in Langley, Virginia. He is the only fallen agent to be recognized with a statue instead of a star on the wall. Statues of Hale adorn the Connecticut State House, Yale University and elsewhere.
In the end, despite his work as a secret agent, soldier and leader of men, perhaps his greatest achievement is that he never stopped teaching. His last words teach us what it truly means to be a patriot and to dedicate one's life to what one truly believes in.