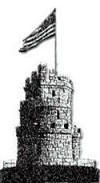 Somerville enjoys a well-deserved reputation as being one of the most creatively diverse and active communities in the entire country. This coming weekend we celebrate this fact with ArtBeat, the Somerville Arts Council's annual festival which spotlights the works of our locals artists, musicians, and others who help make the city a constant source of inspiration and pride of accomplishment for all of us.
This year's ArtBeat theme, migration, adds an extra dimension of meaning to the festivities. Whether referring to acts of nature, such as migration of birds and butterflies, or to the movements of peoples, it is a theme that can be rich in possibilities for creative interpretation and expression.
Yes, immigration to the area by citizens of other lands can often incite controversy and heated discussion. Few of us, however, would argue against the time-honored tradition of celebrating the diversity of our cultural mix and the right of individuals to legally immigrate and add to the fabric of our society.
Let us consider the positive aspects of migration in all its various forms as we take in the sights and sounds of this lively festival of the arts this weekend.
It is a world in motion these days. We can remain rooted to our core values yet still appreciate the beauty of the panoply that passes before us. We will be all the better for it.