Teen Empowerment youth present photos on safety in Somerville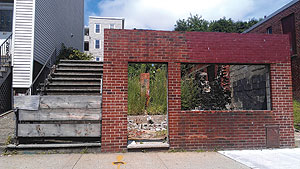 "Brick Wall to Nothing" by Stephanie Santiago. "This is a burnt down building next to Broadway Breakers. Inside there is broken glass, beer bottles, alcohol containers, and trash. This is a forgotten place where terrible things can happen, especially at night. This building is on the left side of the street when I walk down Broadway to Sullivan Station. I have personally passed this building many times, wondering why nothing has been done, and ultimately speeding up to be safe and spend less time around it. This building should be taken down and rebuilt in a way that would benefit the residents of this city."
On Tuesday, August 21, The Center for Teen Empowerment, Shape Up Somerville, Mayor Joseph Curtatone and Police Chief Thomas Pasquarello held a Community Safety Summit at City Hall in the Board of Aldermen Chambers.
Youth Organizers from Teen Empowerment showcased photos they took around Somerville this summer that highlight issues of safety in the city. State legislators, Alderman, City officials, and social service workers attended the Summit and engaged with the youth photographers in a discussion about how to address the issues and increase community safety by working together.
Somerville's Community Safety Summit is the culmination of an intensive community safety audit performed by the 12 Teen Empowerment youth organizers this summer. Youth worked every day to explore issues of safety in their community and ideas for addressing those issues using the Photovoice technique, a participatory action research method by which people can identify, represent, and enhance their community through a specific photographic technique. The intention of this photovoice project is to provide a process to empower the youth of Somerville to tell their stories to people that make decisions over their daily lives. Somerville is one of three Middlesex communities piloting this project over the summer.
The project is funded by the Middlesex Community Transformation Grant (CTG), which has a strategic direction for Healthy and Safe Physical Environments. The aim of this strategic direction is to implement initiatives to improve the built environment in order to increase physical activity opportunities. Over 513,000 Middlesex residents stand to gain for safer physical environments, including 91,000 youth who will be at lower risk of violence. The grant is administered by the Metropolitan Area Planning Commission.
Founded in 1992, The Center for Teen Empowerment, Inc. empowers youth and adults as agents of positive individual, institutional, and social change. Each year, youth conduct over 150 initiatives involving some 6,000 people. The dialogue sessions are funded in part by the state's Charles E. Shannon Public Safety Initiative grant.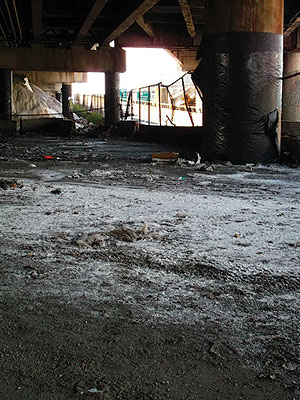 "Under My Bridge" by Kevin Ma. "If it's inhabitable by pigeons, then it also must be inhabitable for us. Here lies a path that many use to cross over to Assembly Square mall, a plaza that's right across the street from my home. Plastic bags, dirt, bottles, and all types of nasty little creatures infest this underpass. Such unsanitary conditions exist because of the fact that there is no trash can. People would then just litter, so placing a trash can there will help make it cleaner. Also, having someone patrol the area to increase safety, clean up, and stop graffiti would be a bonus."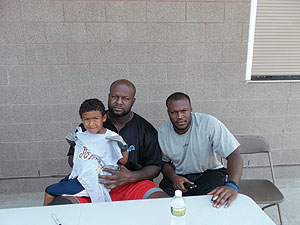 "I Put On For My City" by Duvinson Norestant. "Gosdner Cherilus is a Somerville High School graduate who played for Somerville High and currently plays for the Detroit Lions. He comes back to Somerville to run a camp called the Gosdner Cherilus Camp every summer. Gosdner goes to the Mystic Projects himself to get children to attend the camp. This camp keeps children busy and is a fun activity to do. It stresses discipline and patience which benefits young people in the real world, making our community a better place."
To view  more photos click here for the online exhibit .