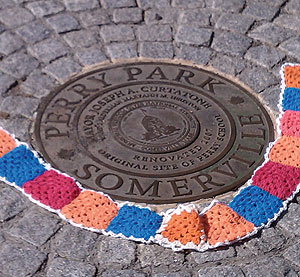 By Allison Caloggero
Nave Gallery will host "Yarnstorm Perry Park," a two month public art installation beginning on Saturday, August 25, 9 a.m. – 1 p.m. The event will be feature artists, young and old, who enjoy knitting, crocheting and livening up a public space with yarn-based designs and patterns. The installation will give Perry Park a warm and fuzzy makeover. All are welcome to join in on installing this amazing public art piece. Perry Park is located between Dane and Leland Streets, outside of Union Square.
The installation will run from August 25 to November 11. Questions about the event should be directed to Margaret Ryan, aka "Pearl K.Nit" at yarnstorming11@gmail.com, the event organizer.