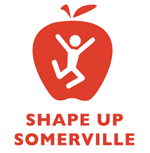 Jaime Corliss to Head State's Mass in Motion Program; City will Undertake Search for New Director
Mayor Joseph A. Curtatone announced this week that, in a meeting last week, the Director of the City's Shape Up Somerville (SUS) program, Jaime Corliss, tendered her resignation in order to accept a leadership position with Mass in Motion, a program of the state's Department of Public Health.  Corliss has served as the SUS Director since May of 2009, and will assume her new role, Manager of Community Initiatives within the Division of Prevention and Wellness next month.
"Jaime has been a tremendous asset to the City, and has helped to promote the best practices and lessons of Shape Up Somerville nationwide," said Mayor Curtatone.  "We are sad to lose such a dedicated and hard working Director, but look forward to continuing our work with the Department of Public Health and Mass in Motion through Jaime in her new role.  I wish her the very best, and I know she will do well in this newest endeavor."
"Jaime came to the City of Somerville with a reputation of being smart, dedicated, and hard working, and has more than lived up to those accolades," said Somerville Health Director Paulette Renault-Caragianes, who supervises Shape Up Somerville under the Health Department.  "While Jaime's departure is certainly a loss for the City, I am very grateful that she has given us so much during her time with the Health Department.  It is a real gift that she will remain a colleague in her new role heading up the efforts of the Commonwealth in promotion of active living and healthy eating."
In her time with SUS, Jaime has spearheaded innovative community strategies and partnerships to promote healthy eating and active living, provided national support to community programs and guidance based on the successes of SUS across the country, enhanced and expanded the City's healthy restaurant program, and wrote two successful award applications, which have brought additional recognition to the City's program.