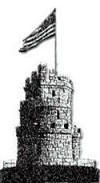 The Primary Election has come and gone, and those who fought long and hard – candidates and their supporters alike – are to be congratulated for once again affirming our Democratic process in its best possible state. Alternatives were presented and the voters made their choices. That's what it's all about.
Middlesex County now has its new Register of Deeds. We warmly congratulate Maria Curtatone on her victory in the race and wish her the best in the days and weeks ahead as she prepares to take on the challenges that the office will be presenting. We know that she will rise to the task and bring all of her abundant talent and expertise to the job at hand.
Likewise, we offer heartfelt kudos to Rep. Denise Provost on her win in the challenge to her State Representative seat. She has served our district well and deserves the opportunity to continue her work, representing the best interests of our community and its surrounding environs. Her proven track record is likely to be exceeded by further achievements on our behalf up on Beacon Hill.
The challengers in these races should also be acknowledged for their superb contributions to the political process. Alderman Maryann Heuston presented a credible case for her election and ran a good race. We thank her for contributing to the dialog and debate, as we look forward to noting the great work she will continue to do in her Ward.
Harry Kortikere and all the others vying for the State Representative spot have also contributed significantly in making this election a model of a successful political system. Their efforts should not be taken for granted.
Last but far from least, the voters themselves should be thanked for taking the time and making the effort to exercise their franchise in the process. All the hooplah and hype, debate and drama, would mean nothing if the common citizen refused to get involved.
Democracy is the one system that assures the little guy that he is, in fact, the big kid on the block after all. Public service to the public is the highest calling in the land. Let us once again give thanks that we enjoy this precious gift.