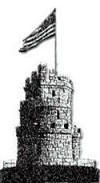 We certainly take pride in the creativity and industrious nature of our fellow citizens and institutions. It's basic human nature to want to take stock in what we value and celebrate these things with one another. But just how much celebrating is necessary on the whole, and at what cost?
There has been a bit of a debate heating up over the possible overdoing of some of the weekend festivals and community events that a) often tend to close off public thoroughfares, even whole sections of neighborhoods at times, preventing the normal flow of traffic to move through; and b) utilize city funds that might be used in other, better ways.
We seem to have something to celebrate each and every weekend, with multiple events sometimes taking place in public spaces, funded at least in part by public monies. Sure, things slow down a bit once winter hits and the streets are iced over. We are waiting for the advent of the first Slush and Ice Fest. Until then, we might consider just how much of a good time should be had and who should be footing the bill.
These events give the city character and show off our uniqueness in the way we do things, which is probably a good thing. Many of them generate a high volume of involvement by our local youth, which is also a very good thing. Still, we think it might be a smart thing if we took a dispassionate look at the big picture and ask ourselves when enough is enough. Set a certain limit to street closures and spending and stick to it.
Everybody loves a good party, but the party givers must respect the needs and concerns of all who are affected. Also, the costs involved should be regulated in a responsible way.
See you all at the Common Sense Fest, hopefully.