By Jim Clark
The Fourth Annual Joe's Jazz and Blues Festival, presented by the Somerville Arts Council, is back for another round of great music and community camaraderie. The festival kicks off with a free outdoor concert on Saturday, October 27, from noon to 6 p.m. at Powderhouse Park. Additional performances will be given at various venues during the following week through November 3.
A perennial local favorite, the open-air concert at Powderhouse Park will feature a wide variety of top-notch musical acts, ranging from American Jazz to Delta Blues, including Agachiko, The Jellyrollers, Jeremy Lyons Trio, Sonic Explorers and The Tim Gartland Group.
The Somerville High School Jazz Ensemble, an eclectic group of High School students and teachers who perform American Jazz from Big Band to Contemporary, is scheduled to start off the proceedings with a performance at noon. Under the direction of Richard Romanoff, this distinguished group often has special guests from the community sit in as featured soloists.
Next up, Sonic Explorers presents its creatively spirited instrumental prowess with original compositions and arrangements of bandleader and trumpeter, Jerry Sabatini, whose highly improvisational style is sought after all over the Boston area. Many genres of American and global music traditions are explored.
The Jellyrollers continue the festivities with their own infectious brand of downhome blues, paying homage to the root music of Mississippi, New Orleans, and Chicago. Featuring the talents of J. Place on vocals and harmonica, Bertrand Laurence on guitar, Mickey Bones on percussion, Rob Rudin on percussion, Robbie Phillips on wombat bass and jaw harp and Mark Chênevert on clarinet. The combo has played at the Boston Blues Festival and the Lincoln Center (NYC).
The program continues with Agachiko, a 7-piece jazz ensemble whose repertoire includes original material as well as derivative works inspired by a diverse array of influences. The vocal stylings of Gabrielle Agachiko are complemented by Russ Gershon on tenor sax, Scott Getchell on trumpet, Ken Field on flute, Sam Davis on guitar, Blake Newman on acoustic bass, and Phil Neighbors on drums.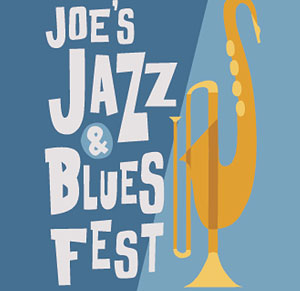 The Tim Gartland Group follows, providing audiences with a driving energy unmatched by any group of its kind. Master blues artist Tim Gartland shares his harmonica virtuosity alongside band-mates Rusty Scott on keyboards, Chris Rival on guitar, Paul Justice on bass and Forrest Pagent on drums.
The outdoor concert wraps up with a performance by the Jeremy Lyons Trio. Specializing in slide guitar and fast finger-picking, Lyons' group is sure to get the crowd on its feet as he and fellow musicians "Washtub" Robbie Phillips on (homemade) bass diddley bow and Jeff Allison on drums offers up its incomparable mix of Delta Blues, Surf Guitar, Rockabilly and Western Swing.
The festivities continue through the following week at various locales throughout the city. At Cantina la Mexicana, 247 Washington St, at 8:30 p.m., the Sarah Levecque Band will entertain. On Wednesday, October 31, at 7:30 p.m., at Arts at the Armory Cafe, 191 Highland Ave., Victor & Penny will be performing. The Stan Martin Band will be featured at Sally O'Brien's, 335 Somerville Ave, 6:00 p.m. There will be no cover charge for these shows. The festival wraps up at Johnny D's Uptown, 17 Holland St, at 7 p.m. with a rollicking performance by The Love Dogs.
A product of Mayor Joseph Curtatone's love of Jazz and Blues music – he himself played trumpet in the Somerville High School Jazz Band – the festival is a treat for fans of good music and fun festivities.