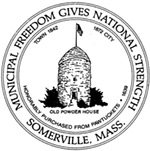 Update:
School has been cancelled for Monday, October 29.

Trash pickup will begin earlier Monday morning (5 a.m.) to alleviate excess trash and debris during high wind periods.  Please check back for updates on Tuesday morning's schedule.
Based on current predictions for the track of Hurricane Sandy (currently a Category 1 Hurricane), Mayor Joseph A. Curtatone has ordered storm preparations and is reminding all residents of necessary precautions in advance of the storm, which is packing unusually powerful winds and heavy downpours.
Department of Public Works staff began storm preparations earlier this week, including clearing catch basins and storm drains throughout the City (with a particular focus on those areas that experienced significant flooding in past storms), trimming trees and branches, and sweeping streets to clear roads of any remaining debris.  In addition, sand bags will be installed at the Public Safety Building, Capuano Early Childhood Education Center, Brown School, Veterans' Memorial Skating Rink, and several other municipal buildings this weekend in anticipation of potential flooding.  Hanging plants and other items at risk in high winds will be removed throughout the City.   Public safety staff will be on call for the duration of the storm and will deploy as needed.  City officials continue to monitor the storm's track northward and additional precautions will be announced and taken as necessary.
Below are some precautions to take for a hurricane.
Public health officials recommend that city residents shelter in place whenever feasible.  Staying indoors and off the roads until advised that it is safe to come outside helps minimize the risk of injury and speeds up recovery operations.  To shelter in place, residents should plan on having food, water, batteries, flashlights,etc, to enable them to stay inside for up to 72 hours.
For flood preparation:
• Raise or anchor equipment below base flood elevation;
• Install or maintain a sump pump;
• Place sandbags at doors or windows that are on ground level;
• Learn the emergency flood plan for the area;
• Prepare an emergency kit including a three-day supply of water and non-perishable food, first-aid kit, battery-powered radio, flashlight and extra batteries.
For high-wind preparation:
• Trim dead wood and weak or overhanging branches from all trees;
• Check and secure anchoring for covered porches;
• Reinforce garage doors so that they are able to withstand high winds;
• Install tie-downs for sheds, fuel tanks, television antennas and dishes, and woodpiles;
• Install hurricane shutters or ¾-inch thick outdoor plywood to each window, along with shatterproof glass;
• Install head and foot bolts to doors;
• Reinforce your roof. Install hurricane straps or clips to help keep your roof attached to the walls.
After the storm:
• Be safe. If you have sheltered in place, stay inside until you are sure that it is safe to go outdoors.  If you have evacuated your home or sheltered elsewhere, do not try to re-enter your home or attempt repairs until it is safe to do so;
• Keep children and pets away from downed or low-hanging power lines;
• Contact your insurance company as soon as possible;
• Do not make permanent repairs until the adjuster has inspected the property – but do take action to prevent further damage, like covering holes in the roof or removing water;
• Take pictures of any storm related damage to your property or belongings, particularly if you must throw away items of value that are bacteria-laden;
• Keep a record of all your receipts, and document any time you spent securing your property, and your conversations with the insurance company.
Important links:
• How to protect your health during and after a hurricane:
• PSA
• Commonwealth of Massachusetts
• Hurricane preparation information in several languages
• Check list for hurricane preparation
• National Weather Service
• Main page
• Somerville page
• Hurricane Sandy
Important points:
• Limit cell phone use as much as possible
• Telephone numbers to use:
• Emergencies: 911
• For non-emergency inquiries: 311
If you experience any wind-related damage in your neighborhood, please report it to 311 and crews will be dispatched immediately. Remember to call 911 with any emergencies.