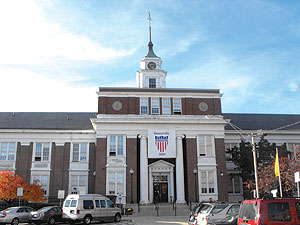 By Jim Clark
The City of Somerville Board of Aldermen last Thursday approved a raise in pay for the position of mayor. The salary rate will be increased by $20K, from $125K to $145K annually.
A study was conducted at the request of the Board and it was determined that Somerville's rate of pay fell significantly below that of similar municipalities in Massachusetts. Generally, it was found that pay rates for city administrators ranged from approximately $124K to as much as $320K+ in neighboring townships.
Board members passed on giving themselves raises, citing a need to resolve issues involving raises for the city's unionized workers, who have been working under the same contract for about six years. The Alderman's pay raise would be relatively modest, at less that $1K.
The mayor's pay increase was expected to pass and followed action taken by the Board to raise the pay rates of non-union city personnel last month. In that move, the Board sought to bring pay levels up to standards that are perceived as necessary based on comparisons made to similar city employee policies established in other comparable communities.