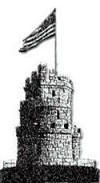 Isn't it obvious? Somerville is a geographically small but densely populated city that has little room for frivolity in how it uses its space.
Outsiders arrive and take up residence – for either the short or long haul – and expect all the little comforts and amenities they are accustomed to in their old hometowns. Bike paths, pedestrian walkways, they're nice if you can have them. But some people just can't grasp the idea that certain communities have limited ability to make these niceties a reality. That is, unless the rest of us who live and work here get shorted on our fundamental wants and needs.
Parking spaces in our commercial centers are at a definite premium. If viable alternatives were offered up – such as conveniently located parking structures or the like – then the possibilities for more dedicated biking lanes would be less problematic then they happen to be at this time. But for the time being at least, wiping large swathes of commercial parking space clean to make way for a privileged few makes little sense.
Cycling is a fine alternative for some to commute around or through the city. Most of us, however, still need to drive and pay for that right with our excise tax money. Can the same be said for those who would see our precious parking spaces reduced?
Some people just don't get it. It's somewhat understandable that the newly arrived transplant might not see it clearly. It is inexcusable that our own homegrown elected officials do not.