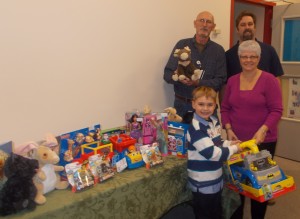 By William Tauro
Little 5-year-old Matthew Kreimeyer of Somerville saw his grandparents' and parents' donations to Toys for Local Children and other charities spread all throughout the office of Best Pest Control and decided that he wanted to do something and get more involved himself.
Matthew took his own allowance that he had been saving up and asked if he could go shopping to help other children in need.
So little Matthew went shopping and when he went to the stores they were so impressed with him that they gave a discount so that he could buy more toys with his money.
When it was all said and done and he dropped off all the toys, as he was leaving the building he said to his Nanny (grandmother), "I better start saving for next year!"
Matthew, who is in Kindergarten, is also the student that raised the most money for the Book-a-thon.
With Matthew, the apple doesn't fall far from the tree. He has wonderful parents and grandparents that are always giving to the community.