By William Tauro
A motor vehicle flipped over leaving its driver trapped upside down after colliding with a parked unmarked Somerville police cruiser.
The accident occurred around 10 a.m. on Friday morning.
A Somerville Police officer was on a detail at the intersection of Medford and Thurston Streets when the sedan crashed into his unmarked cruiser causing the sedan to flip over onto its roof.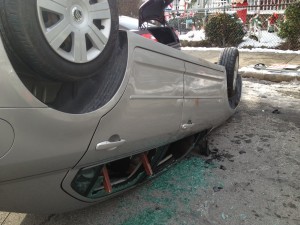 Rescue crews arrived on scene almost immediately after the detail officer radioed in the situation for help.
The driver of the car was pulled from the wreck and transported to an area hospital by ambulance. His condition is unknown.