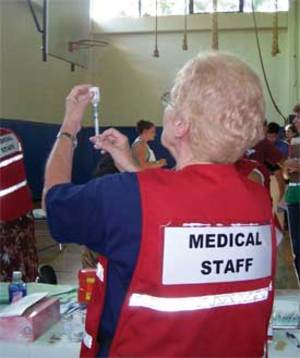 Update:
A message from Somerville Mayor Joe Curtatone: 
Earlier this afternoon, we received word from our partners at the Cambridge Health Alliance – which has several offices and clinics in the City of Somerville – extending an offer to donate 100 doses of Flulaval, an influenza vaccine for adults ages 18 and older.  The additional 100 doses will be available at flu clinics, as supplies last, on Thursday evenings – beginning today – from 5 to 7 p.m. at the Somerville Health Department, 50 Evergreen Ave.  Residents with questions about the vaccination, supply, or other general information should contact the Public Health Nurse Manager, Maureen Monagle, at 617-625-6600 ext. 4320.  Please note, the City of Somerville is not the only local source for flu vaccines.  As of Thursday, January 10t local pharmacies have reported that they still have some doses.  You should also check with your primary care provider.
Previously reported:
From the City of Somerville Health Department:
The City of Somerville's remaining flu clinics for Winter 2012-13 have been cancelled.  The City received approximately 700 doses for the season, and administered the final dose of our supply on January 8.Residents seeking flu shots at this time are advised to contact your primary care physician, or your local pharmacy.