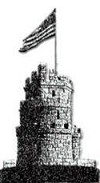 The currently proposed sale of two substantially valuable properties by the city seems be a good step forward in stimulating the local economy and improving how these parcels are being used.
The present parking area in Davis Square generates a fair amount of income for the city's operating budget, but it is hoped that taxes and fees generated from the presence of a new hotel will more than make up for it. Such an enterprise would also boost the local economy by creating more jobs and commerce in the area.
In the case of the property currently occupied by the outdated Powder House School, we sincerely hope that the right kinds of choices are made in terms of what development goes there. Sweetheart deals with non-profit (i.e., non-tax paying) organizations should be avoided. This land is too valuable to waste in a time when economic development – not political expediency – should be foremost in city planners' minds.
Also, it would be shame if an opportunity to create new housing for middle-income folks is missed, should the property be chosen for residential development. Both lower and upper echelon groups have been accommodated lavishly, but we are gradually losing our core middle-class base as families move out of the city due to high rents and a general lack of appropriate housing for them. We urge all concerned to take this into consideration and act appropriately when making their final decisions.
With these actions, Somerville has a huge opportunity before it for taking a great step forward in its development as a forward-thinking, thriving municipality. Let's see to it they we do it right.