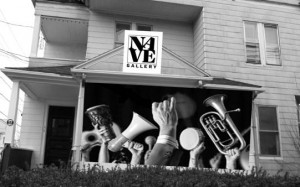 Raising The Nave Porch Roof! : a music fundraiser presented by PorchFest bands Cargo Cult, Litehouse, Dirty Water Brass Band and Dust Clouds of Mars. Thursday, January 31, 8 pm. Suggested donation: $10. PA's Lounge, 345 Somerville Ave., Somerville. Information: 617-776-1557, www.paslounge.com.
The "Raising The Nave Porch Roof" fundraiser is being presented by several local area PorchFest bands (www.somervilleartscouncil.org/porchfest) who are fans of the Nave Gallery and thrilled about the opening of the Gallery's new Nave Gallery Annex, a non-profit community space located right next door to Redbones at 53 Chester St. in Davis Sq.
But there is also an ulterior motive to this fundraiser …. because the new Annex happens to have a great porch, which needs a little work but is a perfect venue to be added  to the next annual PorchFest map. PorchFest 2012 bands have spoken and want to help make the Nave Gallery Annex porch a reality spot for 2013.
The timing of "Raising The Nave Porch Roof" is perfect since the Nave's mover shaker founder and artist Susan Berstler has just been dubbed Somerville Arts Council's Artist of the Month.
Donating their music for the cause are Cargo Cult ("WinterHillbilly trad," www.somervilleartscouncil.org/node/453), Litehouse ("way of life" rock, www.myspace.com/litehouse2009), Dirty Water Brass Band ("street soul" New Orleans-style, www.dirtywaterbrassband.com) and Dust Clouds of Mars (surf rock, www.somervilleartscouncil.org/sacfiles/UFO%20Coverup.mp3 ). These bands reflect what PorchFest is all about – a wildly eclectically musically fun time! These bands also reflect the desire of the local arts community to give back to the Nave, who has been a tireless champion of local arts from all disciplines, and to acknowledge the Somerville Arts Council's hand in keeping this town flush with artistic innovation.
More information on the Nave Gallery can be found at www.navegallery.org. Information on Susan Berstler as Artist of the Month is available at www.somervilleartscouncil.org/artistmonth/berstler.