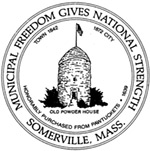 Mayor Joseph A. Curtatone and Somerville Public Library Director, Maria Carpenter, announced  that the City of Somerville has accepted a "Library Card Sign-Up Challenge" from the Town of Arlington and Arlington Public. The Challenge, which will take place through the month of February and also includes the Towns of Belmont and Lexington, proposes to reward the library system that sees the greatest percentage increase in residents signing up for library cards.  Prizes will be issued for new cardholders, culminating in a Grand Prize of an e-book reader to one of the new registrants.
"Library cards offer residents a gateway to a world of information resources, learning tools, and possibilities," said Somerville Library Director, Maria Carpenter. "Residents can grab a book, movie or e-book; take a computer class; practice English; attend a lecture; take a free creative writing class; meet up with friends in the new Teen Space; research family history; get research assistance, and use online college test and civil service preparation databases, among many other options.  We hope that this fun new challenge will give residents who don't yet have a library card with us that extra push to register!"
Throughout the Challenge, new library card registrants and current card holders referring a friend will receive incentives such as buttons, bracelets, pencils, bookmarks, and more when they sign up. New card holders will also be entered in the grand prize drawing of an e-book reader. In addition, new patrons may be entered in a drawing hosted by local. Patrons who already have library cards can bring in a friend to register for a card and also receive a prize.
"February's competition is the start of Somerville's endeavor to register new library card holders. The library plans to tie this into a yearlong outreach effort in different areas of the community to obtain new library users," said Carpenter.  "As part of the Library and Schools' dual strategy of providing seamless education services, the library and area schools are partnering on this effort. So be sure to look for our announcements and signs throughout the City about upcoming outreach events and patron incentives!"
Local businesses interested in participating in the campaign, please contact Eileen Fontenot, eileenfontenot@gmail.com or 617-842-2278.
For more information about the campaign visit www.somervillepubliclibrary.org