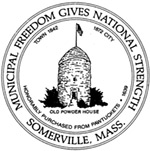 Due to Presidents' Day holiday, cars parked in city and school lots may remain until no later than 8 a.m., Tuesday, February 19; all other parking regulations in effect as of midnight Monday
The City of Somerville has lifted its snow emergency as of 3 p.m., Sunday, February 17. Due to the Presidents' Day holiday on Monday, residents currently parked in municipal or school lots during the snow emergency may delay moving their cars until no later than 8 a.m. on Tuesday, February 19.  Residential parking regulations will be enforced starting Monday night after midnight (12 a.m.).
"This has been a rapidly shifting storm with a hard-to-predict track and total snow accumulations, but the weather picture is now sufficiently stable for the city to be able to lift the current snow emergency," said Mayor Joseph A. Curtatone. "I want to thank residents for their patience and their cooperation. We have had outstanding compliance with snow emergency regulations, which meant we have been able to avoid snow-related towing. We will continue plowing and road conditioning operations, but the plows will not be able to make much more headway on the remaining hard-packed, curbside banks of snow without risking damage to the plow blades."
Although parking is now allowed on the even side of the street, residents are asked to continue to allow at least 10 feet of passage way for emergency vehicles. Cars parked in locations that potentially impede access for emergency vehicles may be subject to ticketing and towing. Residents, landlords and business owners are reminded that they are required by city regulations to shovel their sidewalks but may not shovel snow into the street.
For more information, please call 311, visit city's website, http://www.somervillema.gov/, or follow our Facebook page (www.facebook.com/SomervilleCity) and Twitter feeds (@SomervilleCity, @311Somerville).