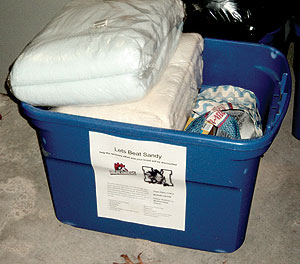 Following a local donation drive spanning several months, Mayor Curtatone and a delegation of city staff will travel to the New Jersey coast this weekend to deliver a truck load of supplies to victims of October's Hurricane Sandy. In a partnership with the communities of Somerville, New Jersey and Summerville, South Carolina, the City of Somerville, Massachusetts collected cleaning supplies, food, and other items needed by victims in New Jersey to assist with cleanup efforts and rebuilding after the super storm demolished many communities there. The delegation will depart from City Hall Friday afternoon at 1 p.m.
"Many times, in the aftermath of devastating events like earthquakes or hurricanes, we are quick to support victims in the weeks immediately following the storm.  Yet we often forget that victim's need can be even greater weeks and months later, as they try to rebuild and restructure their homes and lives," said Mayor Curtatone.  "Thanks to the very generous support of the Somerville community, and partners like Stop and Shop, Market Basket, and UHaul, we have been able to fill a truck with enough supplies to support these victims in their efforts, which will continue for many months."
Through the Somerville-Summerville-Somerville partnership, each community collected items of need for various neighborhoods along the Jersey Shore, coordinated locally by Mayor Brian Gallagher of Somerville, NJ.  The delegation from Massachusetts will join with Mayor Gallagher to deliver supplies to the community of Highlands, NJ, which sustained damage to most of the town's 1,500 homes and almost all of its businesses.
"Whenever tragedy strikes, the Somerville, Massachusetts community is quick to mobilize in many ways.  Knowing we have a partner community in Somerville, NJ, and having weathered some of the minor effects of Hurricane Sandy in New England, this hit close to home.  I immediately contacted Mayor Gallagher to find ways that we could help," Mayor Curtatone said. "Thanks to Mayor Gallagher and his staff, we've been able to provide assistance to so many residents and businesses, and hope we can continue to find ways to help in the months to come."
Thank you to the following local partners for their generous donations and support for our donation drive:  Market Basket; Stop and Shop; UHaul; Boston Burger; The Burren; Flatbread Pizza; Kick*ss Cupcakes; the New England Revolution; Orange Leaf; Raytheon; and Redbones.