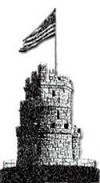 We thought the question should be asked, and we got the answer loud and clear. By a wide margin, Davis Square was voted the most popular city square for shopping and dining by our readers in a recent poll.
Not everyone completely agrees, of course, and each one of our squares offer unique services, amenities, and ambience that clearly distinguishes one from another. Pride in one's neighborhood is a commendable thing, and clearly understandable.
Our poll results, nonetheless, unquestionably crown Davis Square as the top go-to section of the city where the cultural and commercial pulse of the city beats the strongest. Whether it's a busy day of shopping, a leisurely afternoon of just hanging out, or an unforgettable night on the town, Davis has it all to offer.
A bastion of artistic liveliness, the area is a richly diverse neighborhood where multiplicity of expression is celebrated and championed by locals and visitors alike.
Contrast today's vitality of the area with the slump it fell into back in the 70's as a result of factory and business closures, forcing many to move to the suburbs. Thanks in part to the efforts of the Somerville Office of Planning and Community Development and the Davis Square Task Force, the region gradually fought its way back tooth and claw to the triumphant state it finds itself in today.
The everyday efforts of ordinary business leaders and their employees have also made a huge difference when it comes to counting the many factors that led the square back to its justly bestowed prominence.
We proudly salute those who live, work, and play in this crowning jewel in the city we love to love. Congratulations, Davis. You earned your bragging rights.