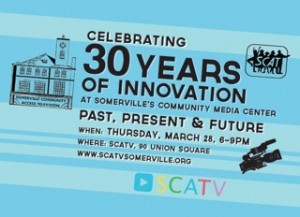 Somerville Community Access Television was incorporated in March 1983 by Mayor Gene Brune. The Mayor recognized the benefits of having a non-profit organization rather than the cable company provide media services to Somerville citizens. He and his Communications Director Howard Horton worked out the details of this new entity, Somerville Community Access Television, which was the first in Massachusetts and served as a model for access centers around the country. The Mayor's vision was to provide a free-speech platform to Somerville residents, in the hope that it would promote healthy community conversations. Since then, thousands of Somerville residents have come to SCATV to learn video production skills to produce programs for their neighbors.
On March 28 from 6:00 to 9:00pm, SCATV will celebrate its historic beginnings with a party at the station at 90 Union Square. Everyone that participated in projects at SCATV over the last 30 years is invited to come and share their memories, which will be videotaped for posterity. There will be refreshments, music, and reunions with former colleagues. We will also look forward, giving updates on exciting changes in the works for the SCATV studio and website. Former Mayor Gene Brune will be there, along with other people who were instrumental in forming and guiding this well-loved institution.
For more information about the SCATV Anniversary Celebration, call 617-628-8826.