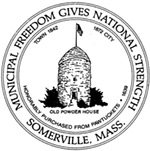 Pursuant to Mass General Law 200A, Peter K. Forcellese Jr., Treasurer for the City of Somerville, hereby serves notice of names of persons or vendors appearing to be owners of funds held by the City of Somerville MA and deemed abandoned.  A full list will be published in the March 27 edition of The Somerville News and will be posted on the city website.  Any individual wishing to claim funds must submit a written request to the Treasurer, as follows:
Information required is acknowledgment of ownership, full name, and current mailing address.
Request can be sent via email to pkforcellese@somervillema.gov, or mailed to:
Treasurer, City of Somerville
93 Highland Ave
Somerville, MA 02143
Currently, $431,000 has been unclaimed.  Funds not claimed by May 31, 2013 will be deemed abandoned.