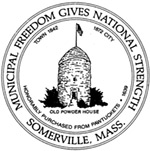 Annual event to celebrate "Woman of Excellence,""Best Service Provider for Women" on March 27  
The Somerville Health Department and the Office of Somerville Commissions announce that this year's award recipients for "Best Service Provider to Women" by the Somerville Commission for Women will be the Somerville Public Libraries for its commitment to families and children, and the "Somerville Woman of Excellence" award will be presented to Marylin Eastwood for her dedication to ESL classes and cultural programming for families at the Somerville Public Libraries.  Awards will be presented at the upcoming reception honoring Women's History Month, held at the Lowell Street Visiting Nurses' Association (VNA) on March 27th.  The event's featured speaker is Dr. Karen Hacker of the Institute for Community Health.
"This year we're able to showcase the many connections and interests of the commission with our award winners, keynote address and survey announcement," said Sonja Darai, Director of the Office of the Somerville Commissions.  "We're happy to celebrate women's history along with looking forward to the days to come."
The annual Women's History Reception will be held on Wednesday, March 27, 2013 from 6:00 – 7:15 p.m. at the Somerville VNA (259 Lowell Street), and will include refreshments.  Women's History Month is celebrated in March, dating to the first International Women's Day on March 26, 1911.  In 1981, Congress passed a resolution making Women's History Week a national holiday, and legally expanded the observance to an entire month in 1987.  This year is also the 100th anniversary Woman's Suffrage March in Washington, D.C.
Past award winners include the Somerville Police Department Family Services Division, the Somerville Homeless Coalition, the Brazilian Women's Group, Special Education advocate Debbie Higgins, and affordable housing advocate Mary Louise Daly, among others.
For more information on the Women's Commission surveys, contact Office of Somerville Commissions Director Sonja Darai at 617-625-6600 ext. 2406, or SDarai@somervillema.gov.