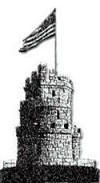 Peter Drucker, the late business management innovator, once famously said, "People who don't take risks generally make about two big mistakes a year. People who do take risks generally make about two big mistakes a year."
While certainly a catchy aphorism, the statement has embedded within it a most sobering suggestion: that mistakes can and will happen.
That is what is at the heart of concerns expressed by city residents and officials as the powers that be determine once and for all whether or not trains carrying loads of ethanol should be allowed to pass through Somerville.
The transportation of the chemical should, needless to say, be regarded as something to be undertaken with the utmost of care. Emergency responders will need to be up to speed with firmly established procedures should a spill or explosion occur.
Although we would probably rest easier if the stuff never came near us at all, we must face the fact that if we don't allow it, another community will. As long as our fire and HazMat professionals can handle what might happen in a worst-case scenario, it should prove to be a situation that we can live with.
We have dealt with hazardous materials problems in the past and have handled them successfully. We must make sure that our emergency response resources are truly ready to take appropriate and timely action should the worst take place.
Life is never free from risks, but we can certainly minimize the damage by being at our best when it come to preparedness.