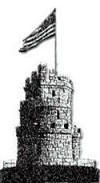 Most of the world still views America as the land of opportunity, and one where freedom of expression is held as an inalienable right of the people.
For some, however, the ability to ply their chosen trade or sideline can be thwarted due to unclear or unfair regulations.
The tradition of street performance is ancient and universal. Throughout the world the jugglers, musicians, mimes, et al, entertain millions as they present their skills to a – mostly – willing public.
Most of these performers have spent years honing their skills and may be regarded as serious professionals, even if they choose take their acts to the streets.
What any of us want – in fact, what we need – are clearly defined rules and procedures to follow when doing our jobs. The street performers are no exception.
A well-defined public policy spelling out the rights, restrictions, and requirements for these artists can only be regarded as a win/win scenario for all concerned.
Second-guessing when the right time or the right place is to do one's job can only add on stress and anxiety in an already difficult vocation.
Issuance of performing licenses would allow for a sense of security and dignity for the performers, as well as help to provide a sensible means of regulation of rules for local authorities.
At the very least, clear policy should be established and made known to those who would seek to entertain us while providing themselves with a little income.
The land is here, so let's make sure we keep providing the opportunity as well.