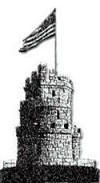 Some people are right, it probably could be a better time to leave office, but what is really a good time? None of us know why some people do things and, hell, that goes for all of us.
So, after 19 years of service to the residents of Ward 5, Alderman Sean O'Donovan has resigned, citing his family and his business as his reasons, and pretty good reasons at that.
Although some might doubt Sean's reasons, some of them just might have a political axe to grind, while others accept his reasons for what they are and move on. It's 19 long years.
Sean was in his mid 20's, a single guy who was attending law school, when he was first asked to step into the political spotlight, which he eagerly did. First on the School Board, then on the Board of Alderman.
Running to stay in office every two years for 19 years has to be exhausting for anyone, never mind a guy who is devoted to his family, his parents, and his newly married wife of a few years, his full time law practice and his partners in that venture.
Let's remember, it's not the fight for re-election that might have bothered him, he's won every single election he's been in and never lost, actually beating every single opponent throughout the years two to one hands down. A clear victory every time.
That says a lot, and most politicians would love to have a winning record like that.  Anyone who opposed him will tell you, they were not beaten on Election Day. Sean overwhelmingly won the support and admiration of the residents of Ward 5 every single time he was on the ballot, handily beating back all his opponents.
This year he would be facing another formidable candidate in his bid for re-election, but it was generally agreed that Sean would have beaten him as well and would have headed for 21 years of service.
So, he's going to re-group and do the right thing, attend to his family and business and hopefully sometime in the future he might be back. But for now he's leaving his residents to a great choice in Courtney O'Keefe, a lifelong resident, a person who obviously loves Ward 5 as Sean does. Her knowledge of Ward 5 is second only to Sean's. Just check out her own web site www.ward5online.com and you'll agree with us. She's more than capable of understanding the issues facing the ward.
We hope that the Board of Alderman vote her name for the appointment, which by the way is in our City Charter as the duty of the Board of Alderman to vote to replace.
For 19 years of public service to the residents of Ward 5 and the entire City of Somerville, a good record, we thank and wish the best of luck to Sean and his patient wife, as well as his partners who are in business with him.
We know he'll still be around and involved to help continue to move Somerville forward.  We, along with all the residents of Somerville, and in particular of Ward 5, thank Sean for a job well done and his service to our community.