Eagle Feathers #24 – April 19th

By Bob (Monty) Doherty
It was the day that colonial Americans stopped procrastinating and threw off the oxen yoke that England had put on her for over 150 years. It was the day that both Middlesex farmers and Boston businessmen put their lives and their holdings on the line in a rebellion against the powerful British Empire.
As far as Americans are concerned, and especially Somervillians, this should be the holiday of all civil holidays because it initiated the eight-year war that would ultimately win America its freedom.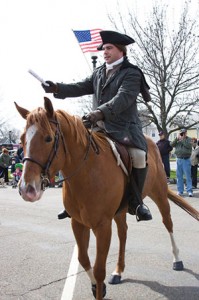 The wind which would ignite the spark of defiance was delivered by Paul Revere, who came dangerously close to being captured in East Somerville at the beginning of his ride.  A memorial in front of the Holiday Inn on Washington Street makes note of this incident.
After evading the British, he rode to the top of Winter Hill and angled off to Medford. At this point, a memorial marker was placed commemorating his ride. This is located in front of The Paul Revere Apartments. At the same site, Cyrus Dallin, one of America's foremost sculptors, wanted to place a statue reminiscent to one found in front of The Old North Church. This grand gesture never materialized, however, due to a lack of funding.
While his ride bridged a mere two days, Paul Revere would go on to leave many more hoof prints in Somerville than the ones he laid that famous night, the eve of Patriot's Day. These prints, however, you probably have already come across in the annals of American history.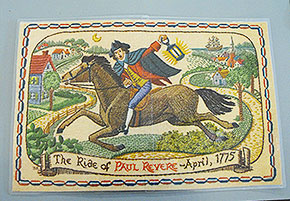 Scores of Minuteman died on April 19, 1775, but the last was Somerville resident James Miller. Miller, 65, whose final words were "I'm too old to run," died at his post on the side of Prospect Hill. Miller manned his station and protected the lives of younger soldiers by fighting off the oncoming British troops with unrivaled fervor and relentless gunfire. His bravery served as an inspiration to many thousands of future Somerville soldiers and sailors.
One of them was Lance Corporal Richard Gordon, of the United States Marine Corp. Gordon was one of the 241 Marines who would give his life in the defense of peace in Lebanon on October 23rd, 1983. The terrorist attack at Beirut was the largest single-day loss of life for the Marine Corp. since Iwo Jima. Gordon, who died 30 years ago this coming October, was the most recent Patriot from Somerville to give his life for freedom. His birthday was on Patriot's Day.
Somerville's first Patriot martyr died on April 19, 1775. Somerville's last Patriot martyr was born on April 19,1961.
May we remember and honor Miller, Gordon and all of our city's brave Patriots on this day.