Eagle Feathers #25 – The Grand Turk
By Bob (Monty) Doherty
"Old Spice means quality," said the captain to the bosun. "So look for the bottle with the ship that sailed the ocean."
So goes the iconic jingle referring to Old Spice toiletry products. The Old Spice Company, which began in 1934, manufactured products and then marketed them with a nautical theme. Your father and your grandfather are sure to remember the original Old Spice ad campaign.
Long before the branding ventured into promotions by sports figures such as Nascar driver Tony Stewart (the company sponsored him) and NFL star Ray Lewis, Old Spice prominently featured a picture of the Grand Turk, which can still be found on their packaging to this day.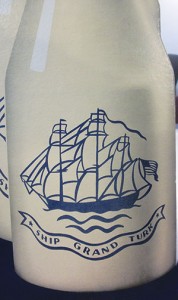 The Grand Turk was a ship built in 1781 for Elias Haskell Derby. Derby, whose son is the namesake of Derby Street, was a Salem ship owner until he moved to the mansion at Ten Hills, Somerville. He was a patriot, whose ship, the Grand Turk, as well as many others under his ownership, captured 144 British naval and supply vessels during the Revolutionary War.
Elias lost 19 of his own ships during this ongoing endeavor. There was an expression during and after the war called "derby luck." The saying was a reference to the overall outstanding luck that Derby's vessels had during their nautical exploits. It was one of his ships that brought home the first word that The Revolutionary War had come to an end, with America reigning victorious.
After 1783, with the war over, America underwent a drastic change in focus, shifting from manufacturing items for the war effort to items more suited for peacetime commerce.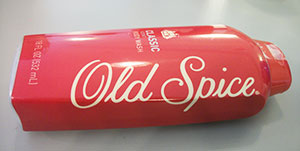 His fleet, highlighted by Derby's pride, the Grand Turk, sailed to many far- flung ports. His ships brought back exotic riches to New England from all over the world, making him America's first citizen to die a millionaire.
These were dangerous times for international sailing, but this did not slow down Derby's fleet. He risked his fortune with young captains and crew. In fact, one of his ships sailed away on a three-year voyage with a crew of men younger than 22 years of age. During this time, it was the Grand Turk that opened trade with China by being the first craft to sail under the new American Flag, bringing the stars and stripes to Canton.
The Old Spice Company made a truly fitting decision in selecting the Grand Turk for its logo, as it would be difficult to find a marketing campaign more representative of the spirit of American commerce. "Old Spice means quality," said the captain to the bosun. The Grand Turk. He was right.