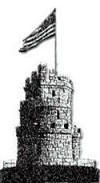 There are times when the rose tinted glasses have to come off as we take a hard, dispassionate look at the world we inhabit in the cold gray light of reason and sobriety.
While we love our city and proudly proclaim its virtues for all the world to hear, we must also not forget that all communities are works in progress. Just as no individual can lay a claim to perfection, so it is that even with all that we can be proud of, there is also always room for improvement.
While much of our city is certainly to be deemed "walkable" for many of us, we must also look for the little imperfections that make it less so for others and work towards rectifying those problems. Sections of sidewalks in disrepair should be mended. Obstructions for those with mobility issues should be attended to. In short, "walkability" is a subjective concept, according to the ability of any given individual to actually do the walking.
Likewise, the idealized "bikable" city that many wish for has not quite yet been realized. The pros and cons of developing proper biking paths are still being debated, and much discussion and intelligent planning is wanted as we consider how best to approach this issue.
It takes a lot of living in the real world to make a city "livable." Jobs, support of infrastructure, basic civic pride, these and other important ingredients all work together to make a community a good – even a great – place to live.
We are certainly on our way, and we have a lot to be proud of. But let's also be careful to keep in mind all the hard work that is yet to be done. If we do, we'll get there. That is certain.