By Clennon L. King
Ask current Harvard Law School students where Class of '91 alumnus Barack Obama, lived during his three-year stint there, and most will blurt out "Somerville" without skipping a beat.
Ask those same HLS students of where Class of '88 alumnae and future First Lady Michelle Obama, lived, and the response is likely to be a pregnant pause and blank stare.
This week a search of Harvard University archival records pinpointed for first time publicly, the exact addresses of where the First Lady resided during her Harvard years.
According to Harvard Radcliffe Student Centrex Telephone Directory, the former Michelle Lavaughn Robinson L'88 lived on campus in three graduate school dorms near the intersection of Everett Street and Massachusetts Avenue in Cambridge.
The phone listings show Obama spent the first of three years in Dane Hall 204, her second in the now-demolished Wyeth Hall 503, and her third and final year in Story Hall 115.
"Yeah, I'm surprised," said first-year law student John Shepard of Fort Worth, TX who currently lives in Story Hall 115. "It's sort of interesting she lived in my room."
Shepard, who attended President Obama's second inauguration in January, said his parents were "shocked" after reading his email of the news, something he also shared with friends at a recent party.
"I have a lot of respect for the First Lady," said Shepard who, as a teen, attended the first presidential inauguration of fellow Texan George W. Bush following the controversial 2000 election. "Maybe it will make me think twice about going into government myself."
A tour of Shepard's dorm room shows a tight rectangular floor plan with space sufficient to accommodate a twin bed, dresser, desk and closet. A double plate glass window offers a westerly view that overlooks a driveway leading to an adjacent parking garage. Like Shepard, Mrs. Obama would have had to share a common kitchen, bathroom and lounge at the far end of the hallway.
"It's quite remarkable that she was walking in the same corridors," said Alvino van Schalkwyk, a mergers and acquisition lawyer from Cape Town, South Africa working on his master's degree, who lives three doors away from Story Hall 115. "You just realize what you can achieve and what is possible."
A short walk from Story Hall across an adjacent quad sits Dane Hall, home to Mrs. Obama's second-year dorm room, 204. The current occupant, who, until recently, was unaware of the First Lady's tie to her room, declined comment.
Mrs. Obama's first year dormitory, Wyeth Hall, where she lived in room 503, was leveled to make way for a new 250,000-sq-ft law school complex, 18 months before she became First Lady.
Some current Harvard law students marveled as they eyed the name "Michelle L. Robinson" next to her phone number and dorm room.
"I was shocked," said Ria Davidson, a corporate lawyer from Santa Cruz, Trinidad working on her master's degree in law upon first hearing the news.
"We asked a couple of people, when we first arrived, where she lived," said Davidson. "But no one seemed to know in the (law school) administration."
For Davidson, Obama is a huge role model who successfully "avoided having to chose between a career, an education and a family." "It's something I want for myself," she said.
Like Davidson and van Schalkwyk, secondyear law student Justin Gringerich from Cleveland, said he would support the University mounting a plaque marking the dorm rooms in Mrs. Obama's honor.
"You hear about Supreme Court Justice Roberts stayed here, but it seems pretty cool Michelle Obama stayed here," said Gringerich, living six doors away from Mrs. Obama's thirdyear room.
"It kind of gives you a tangible connection to amazing people who came here, and did something amazing with their degree," he said.
The Office of Communications at Harvard Law School was neutral and non-committal in its response to the plaque mounting idea.
"We do not currently have a policy regarding memorials to notable alumni on campus," Public Information Officer Sarah Marston wrote in a recent email.
Yet, Harvard has and continues to memorialize dorm rooms of famous alumni who later served in the White House.
In June 1961, Eleanor Roosevelt dedicated a plaque memorializing a four-room suite – Suite B- 17 of Adams House – once occupied by her late husband, Franklin Delano Roosevelt. The FDR Suite has been the focus of an ongoing restoration project, endowed fellowship and current fundraising campaign.
Harvard's Institute of Politics recently restored – to the period – JFK's senior year dorm room, known as Winthrop House Suite F-14, where visiting professors, special guests of the university and those willing to pay, are hosted.
Mary A. Regula, wife of former Ohio U.S. Representative Ralph Regula and founder of the National First Ladies' Library, said recognizing Mrs. Obama's time and space at Harvard is fitting and appropriate.
"I think we need to know all about our First Ladies, just like we need to know about our Presidents," said Regula who founded the Canton, Ohio based Library in 1998. "What they did and do is equally important.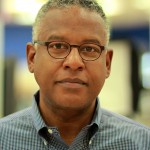 Clennon L. King is a Somerville-based journalist, photographer and filmmaker, whose currently in post production on a Civil Rights documentary focusing on a pivotal campaign in a small Florida town where New Englanders played a big role.