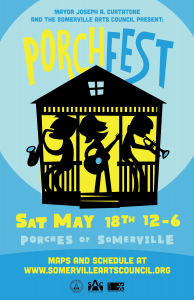 This Saturday, May 18, noon-6pm, Somerville takes advantage of an underused music venue: the porch!
Somerville Arts Council  launched Porchfest back in 2011 and it has taken off like wild fire. Perhaps you've sat on your porch and overheard a neighbor strumming guitar on another porch?  Porchfest takes this idea and multiplies it.  This is not a festival per se but rather a community event where Somervillians share their love of playing and listening to music.  Think of Somerville Open Studios, which is for visual artists, but for music. There are over 100 bands registered to play this year.
Musicians and bands throughout Somerville will celebrate and utilize an underused public venue: The Porch.   Acts—ranging from bollywood funk, cosmic americana, killer blues, Moroccan, Balkan, gospel, American space rock and clawhammer banjo—will serenade passersby from porches throughout Somerville.
There are three time slots are based on three quadrants of the city; east to Central will be 12-2; Central to Willow will be 2-4; west of Willow 4-6.
There's also a full map and info at www.somervilleartscouncil.org/porchfest