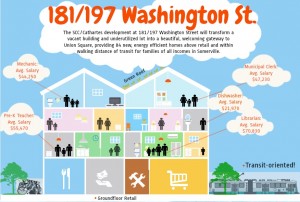 On the evening of Thursday June 20, the Somerville Planning Board will hold a public hearing to discuss the proposed development by the Somerville Community Corporation (SCC) and Boston-based Cathartes Private Investments (CPI) at 181 & 197 Washington Street in Union Square, Somerville. The hearing will begin at 6:00 pm at the Visiting Nurses Association (VNA),  259 Lowell Street in Somerville. A rally will be held by SCC supporters outside the building beginning at 5:15 pm. Many of these supporters will be holding signs, wearing stickers, and participating in short skits that demonstrate the importance of providing housing opportunities affordable to people of all incomes and ensuring that the pending Green Line Extension is not a ticket out of town for Somerville families.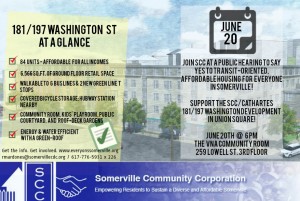 This joint proposal between SCC and Cathartes Private Investments represents a unique private/nonprofit partnership to transform a vacant building and underutilized lot into 84 new energy-efficient apartments over retail and office space that:
Embraces the community's vision for a vibrant, connected, transit-oriented Union Square;
Provides a welcoming gateway to a neighborhood remaining affordable to people of all incomes;
Preserves opportunities for everyone- including working families with children- to thrive in Somerville and to benefit from the Green Line Extension.
Somerville Community Corporation (SCC) is committed to working with and being guided by Somerville residents.  We want everyone to benefit from access to good jobs, great transportation, a thriving economy, public open space, and other city amenities.  To ensure this, SCC prioritizes the value of "keeping housing within reach" of people of all incomes.
For more information about SCC and about this project: www.everyonessomerville.org
For more on SCC's vision for this project: http://ow.ly/mcp0E
For live video testimonials from Somerville residents, political candidates, and public officials speaking in support of this project: http://vp.telvue.com/preview?id=T02351&video=158191
For detailed plans, sketches, and studies on this project: http://www.somervillema.gov/departments/planning-board/reports-and-decisions