By William C. Shelton
 (The opinions and views expressed in the commentaries of The  Somerville News belong solely to the authors of those commentaries and  do not reflect the views or opinions of The Somerville News, its staff  or publishers.)
The city's new fiscal year begins this week, and the budget has increased to $196 million.
Our reserves are about 6% of this sum. To many, this may seem like a prudent amount. I don't think it is. In fact, I believe that our city's fiscal circumstances are more precarious than most 'Villens realize.
We are relying on what I believe is an unsustainable revenue source—net taxes on residential property growth—but we are spending it freely. Massachusetts law requires that annual property taxes increase by no more than 2.5% of a city's total assessed value, plus the tax on newly created real property.
For years, a substantial portion of our growth in property taxes has come from new residential property. And much of this came not from new construction, but from converting multi-unit properties to condominiums. The condos sold for top dollar, producing a collective property value much higher than their buildings' pre-condo value. The hot market also created opportunities for people to renovate residential properties, resell them, and make a bundle.
We seem to be reaching a limit on how many old homes can be converted or renovated. Now, growth is coming from high-priced housing projects like Assembly Row, Maxell's Green, the Stop and Shop project, and many smaller ones.
But commercial property pays taxes at 166% the rate of residential property while costing the city only half as much to provide municipal services. Put another way, residential property does not generate tax revenue anywhere near what the city must spend to deliver residential services.
Each year, the value of new real property increases the limit that the city can collect in taxes. In Somerville, that new property is overwhelmingly residential. But each year, the city increases its spending right up to that new limit, even though the newly created residential property will eventually cost the city more than it pays in taxes.
Meanwhile, we rely heavily on state aid, as do distressed communities like Lawrence, Chelsea, and Springfield. It accounts for a quarter of our municipal revenues. When the state catches cold, Somerville gets pneumonia, as was the case in 2001 when the state cut our aid allocation and the city laid off employees and cut services.
Other revenue sources can be uncertain as well. We've learned that the federal government will no longer allow the city to use HUD funds to pay something like $500,000 in Strategic Office of Planning and Development salaries and $300,000 to retain technical and professional services.
Yet we are spending money as if are flush and have no worries for tomorrow. The expenditures that I believe to be unwise and unnecessary are the subject of another column. In this one, I'm concerned about Somerville's failure to grow its commercial tax base.
This failure is not just burdening homeowners and putting our fiscal health at risk. It's creating a pattern of development that makes a majority of 'Villens uneasy.
Paying for our schools represents a substantial portion of residential municipal services, increasing their cost and thereby reducing net residential property tax income. Accordingly, city policy now appears to be one of encouraging the development of housing targeted to high-income consumers who don't have children, thereby reducing a portion of the permanent costs that come with new residential development. I don't know if this policy is one of commission or omission.
Unfortunately, those pesky new residents have a tendency, over time, to reproduce, and they don't always move on when their kids reach school age. Of course they don't always have kids either, and those who do, don't all stay here. They also sell out, inflating housing prices.
Both outcomes are making our city unaffordable, and unfriendly to families. The bonds of community continue to dissolve. And 'Villens who oppose developments that damage the character of their neighborhoods are systematically ignored.
It was not always thus. Over the lifetimes of people in my generation, Somerville went from being an industrial center to a bedroom suburb. As industrial properties became vacant, city authorities manipulated zoning decisions in behalf of well connected developers who converted those properties to residential uses.
Over the same period, Boston and Cambridge made intense, focused, proactive, and successful efforts to increase their commercial property base through land transformations. The first graph shows the growth in the three cities' residential property over the last 27 years. Accounting for economic cycles, Somerville's has remained flat.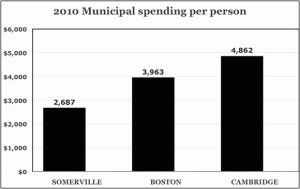 The second graph shows the results of this pattern. Per resident, Cambridge is able to spend 181% of what Somerville spends and still remain fiscally sound; Boston, 148%.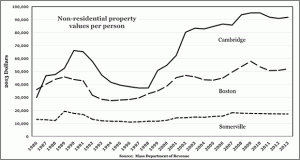 Boston and Cambridge have two jobs for every working resident. Somerville has two residents for every job. Office buildings and research-and-development facilities bring a broad range of permanent jobs, from entry level to highly skilled. In addition to strengthening Somerville's finances, having those kind of jobs here could help reduce the number of 'Villens who are economically displaced from their own city.
With its location and $7 billion in transportation infrastructure, Assembly Square was our best hope to grow the commercial tax base. Developed as an office/R&D-based neighborhood, it could have produce $30 million per year in net new tax revenue and 30,000 new jobs.
When Joe Curtatone first ran for mayor, he promised that if Assembly Square zoning were weakened to allow Assembly Square Limited Partners to build whatever they wanted, the revenues generated by their creations would lower the tax on an average two-family home by $1,000 per year. Ten years is enough time to say that relying on residential and retail development isn't going to get us there. Or anywhere near.
We need city leadership that will tell developers what we expect, rather than the reverse. A case in point is issuance of bonds that will cost Villens $50 million over 30 years to pay for infrastructure that Assembly Square developers were legally obligated to cover.
A similar example is the East Somerville Stop and Shop. Neighbors rose en masse to oppose its development in 2001. The city dismissed their concerns and approved a planned unit development on the promise that Stop and Shop would build an adjacent office building. A dozen years have passed and Stop and Shop now wants to build 200 housing units instead of an office building. City officials seem prepared to accommodate them.
I have been talking with aldermanic candidates who, in turn, have been talking with their constituents. They tell me that people under 40, even high earners, are concerned that they will be priced out of the city. People over 40—old or new Somerville—aren't as concerned about being economically displaced. Rather, they are troubled by the changes they see in their city.
Both concerns result from the same trends. Wise politicians will act to change them.