Bridge to be closed to vehicles for three weeks as MassDOT prepares for Green Line Extension into Union Square.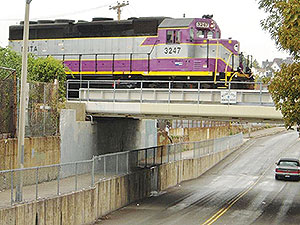 As preparations continue throughout the City of Somerville in anticipation of the Green Line Extension Project, the Massachusetts Department of Transportation (MassDOT) will begin intensive repairs to the Medford Street Bridge in July that will require the full closure of Medford Street between Somerville Ave. and South Street through July 21. Beginning on Friday, July 5, this portion of roadway will be closed to vehicles 24 hours a day, seven days a week for the next three weeks. Pedestrian access will be maintained, and detour signage has been posted in these areas. Throughout construction, details and information can be found at www.greenlinextension.com, or by calling 1-855-GLX-INFO.
Detours in the Medford Street and South Street area will be as follows:
Left on South Street to Windsor Place (approximately 0.5 miles)
Right on Webster Ave (approximately 500 ft)
Right on Prospect Street (approximately 0.25 miles)
Right on Somerville Ave (approximately 1.2 miles)
Right on Cambridge Street (at Lechmere Station)
Repairs to the Medford Street Bridge have been ongoing since March 2013, and will continue through July 2014 as the State prepares to install the first of six new Green Line stations in Somerville, the first to be situated in Union Square. The project officially broke ground in December, 2012 at a press conference with Governor Deval Patrick, MassDOT Secretary Richard Davey, Congressman Michael Capuano and members of the state delegation.
For more information about the project, and for ongoing construction updates, please visit www.greenlineextension.com or www.somervillema.gov. or call 1-855-GLX-INFO (24 hours a day, 7 days a week).