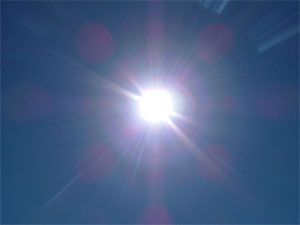 Due to high heat and humidity indices and poor air quality forecasts continuing through Friday, July 19, the City of Somerville has issued the following alert. Please also note that the city's cooling center and Dilboy Pool hours will be extended, all outdoor recreation activities are canceled, and the fee for Dilboy Pool will be waived today (please see the details below):
"Residents are advised to avoid exposure to the extreme heat whenever possible, to drink plenty of water and restrict unnecessary outdoor activity. Residents are also reminded to check on the welfare of family members and neighbors – especially senior citizens, young children, or those who have physical limitations – to ensure their continued safety. As always, if you experience a heat-related health or safety emergency, or you see anyone who needs assistance, please dial 911. Any resident – especially seniors – needing a cool place tomorrow should visit the City's air-conditioned Cooling Center open on Holland Street. If you require transportation to the Center, call 3-1-1 for assistance.
Temperatures are expected to reach the high nineties on Friday, with heat indices predicted to extend well beyond 100 degrees.
The City of Somerville has canceled all outdoor recreational activities, however the public pool at Dilboy Field will remain open until 8 p.m. Friday, and all entrance fees will be waived. The Massachusetts Department of Conservation and Recreation will also extend operating hours at the Foss Park Pool until 8 p.m. City employees conducting regular business outdoors will adjust or limit activities as necessary today.
The Holland Street cooling center at 167 Holland St. will remain open until 8 p.m. Friday, and seniors or residents with mobility issues may request free transport to the center by calling the Council on Aging at 617-625-6600 ext. 2300. All three Somerville Public Libraries will also be open until 6 p.m. today, and each are air-conditioned. An interactive map of the city's parks with water features is also available at http://somervilleresistat.blogspot.com/2011/07/interactive-map-of-somerville-parks.html.
Residents are advised to call 311, check the city's cable channels website, or social media feeds (www.facebook.com/SomervilleCity, www.facebook.com/311Somerville, @SomervilleCity, @311Somerville), for updated information.