By Harry Kane
Louie's Ice Cream is a hidden gem in East Somerville that, day and night, serves up a variety of frozen treats for the summer crowd, who enjoy the cooling effects of America's favorite dessert.
A passerby walking his black Labrador stops at the take-out window underneath the red awning, orders a lemon slush, and walks off with a smile. That's a snapshot of Louie's by day, but at night it gets busier, with lots of chatter and excitement in the air. Groups of teens on dates stop by before jumping on the 89 bus to Davis Square.
A favorite is Louie's classic banana boat, which consists of strawberry, chocolate and vanilla, and is topped with hot fudge, pineapple, whipped cream and cherries. Delish.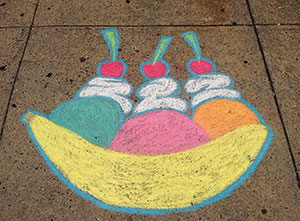 Suzanne Robichaud, 23, daughter of owner Paul Robichaud, said she makes any and every combination for customers. "Everyone likes the banana split," she says. "The nice thing is that it's kinda like a meal, a dessert meal." Banana boats are $8.95, and they serve two people, unless you're hungry enough to devour a whole boat yourself.
A popular banana boat combination consists of chocolate chip, banana and chocolate peanut butter with hot fudge, whipped cream, nuts and cherries. But the most exotic banana boat is called the Tropical Boat: banana, cocoanut and strawberry with pineapples, whip cream, nuts and cherries.
Among the many flavors sold at Louie's some of the favorites include coconut, coffee-Oreo and pistachio. Louie's sells Richardon's ice cream, but there's a lot more at Louie's than just ice cream.
One specialty you can find at Louie's Ice Cream is frappes – three parts ice cream, one part milk with two tablespoons of syrup – in any flavor and every combination. "On the unique side, I personally like our rum raisin black raspberry combination," Robichaud says. Other popular combinations include banana and chocolate peanut butter or chocolate syrup peppermint. Frappes are served in one size only for $4.95, except if you want extra thick, that's $5.50.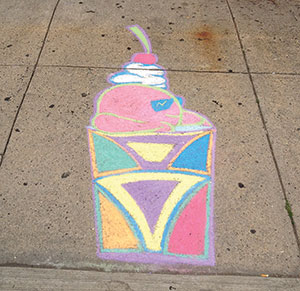 Ice cream sodas are popular, too, she says. Most people prefer the coffee or chocolate ice cream soda. "More often than not, they'll go for a smooth flavor." And then there are ice cream floats – any soda mixed with any ice cream – the most common being the root beer float.
While the Robichaud family has owned and run the store for the past 9 years, it's been on the corner at 193 Broadway for some 30 years. The Robichaud's take pride in their business of bringing ice cream to the children inside of all of us. "It really is all about family," she says.
A lot of customers have a strong emotional attachment to the ice cream shop. Robichaud recalls a Green Line crash a couple years ago. She had been working late that night, and the store was closing down.  Robichaud was ready to go home when a customer showed up. "He told me that he really just wanted an ice cream from Louie's after having the worst day possible." So she re-opened the store. While eating an Oreo cookie frappe, he told her that he was one of the firefighters, who had pulled the conductor out of the T after an accident.
Monday through Thursday, Louie's opens at noon and closes at 10 p.m., with weekend hours until 11 p.m. Another great thing, Robichaud says, is that you can try anything before you buy it.