Life in the Ville by Jimmy Del Ponte
(The opinions and views expressed in the commentaries of The  Somerville News belong solely to the authors of those commentaries and  do not reflect the views or opinions of The Somerville News, its staff  or publishers)
There were lots of visitors to the old neighborhoods of Somerville. Visiting vendors, that is.  We saw the trusty milkman delivering those thick glass bottles for years. Remember the sound of the bottles clinking together in the metal cases? We heard the fruit man singing out "strawberries…raspberries…CHE–EEEE-RIES!" The Dydee diaper truck, the knife sharpener and ice cream man were always dropping by also.
Then every once in a while during the summer, a clunky old truck with an amusement ride on the back would chug into our area. For a dime or a quarter, you could climb up onto the truck and ride a miniature Tilt-a-Whirl, Whip, Ferris wheel or merry-go-round.
Sam Pino Amusements had some of these happy trucks. The most daring of all these rides was The Whip! I remember riding it and getting off very dizzy. It was probably a combination of the movement of the ride and the stinky exhaust coming from the old truck. Did you ever get grease on your clothes or arms or legs from those rides? What about the rust? Sometimes you needed a tetanus shot when you got off the ride. Yet just the mention of those old amusement trucks brings back so many childhood memories.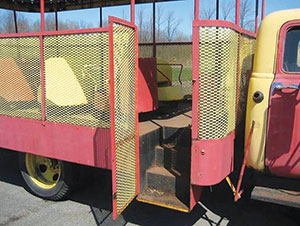 The "vendor" trucks had their own music. You could tell who was coming by the song that was played. I remember how annoying some of those songs were. They just went on and on repeating the same scratchy tune over and over. But we kids knew what song was what guy! Our brains were tuned into it like homing devices. Wikipedia helped me remember some of the most popular ice cream truck ditties: The Entertainer, Pop Goes the Weasel, It's a Small World, and Teddy Bear's Picnic. It always seemed that a few of the notes were flat. We enjoyed popsicles, fudge-sicles, push-ups, nutty buddys, ice cream sandwiches and chocolate covers. Then came all those new fancy super hero bars, and treats with gum balls in them. They went from a quarter to a buck!
I know there were several different ice cream trucks that came around. There was Norman, Mr. Frosty, Mr. Tastee, and Mr. Soft-Tee. There were also a lot of independent guys, some very creepy! When we were kids, the ice cream man stood inside the truck and was larger than life. You'd tell him what you wanted, and he would open the freezer and dig down to grab what you asked for. I wonder if that pizza truck that was always near Foss park is still making the rounds?  My friend Gary remembers a popcorn cart that once made its way through Somerville neighborhoods. He recalls the popcorn being served in colorful cellophane wrappers. One of my friends added that she actually remembers when an organ grinder complete with a monkey could be seen on the streets of Somerville. I would have loved to have seen that.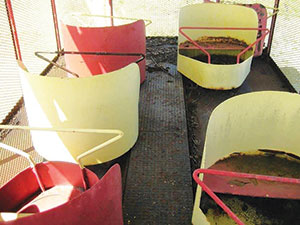 The old vendor trucks bring back memories of the days when we would decorate our bikes and baby carriages for parades. Some friends recall going for pony rides down the North End and that reminded me of horseback riding at the Triple A stables at the Mystic Lakes (perhaps a story for another day!).
Today there is so much going on in Somerville. Almost every summer night has an entertaining activity, like The Sunsetters, offering fun for all ages. When we think of the old days, we have to remember those vendor trucks that visited our neighborhoods bringing a lot of fun with them.