The Somerville Tsunami 10U softball team finished their season 13-1 to earn the title of co-champions in the 10U B division of the Middle Essex Softball League. In their first year of play, the Somerville Tsunami began practices at the end of June and played 14 games through the first week in August scoring 167 runs on their way to the division championship.
The Tsunami finished with a nine game winning streak defeating teams from Charlestown, Watertown, Burlington, Melrose, and Winchester.  By finishing in one of the top four spots in their division, the Tsunami coaches also had the opportunity to coach one of four Middle Essex all-star teams on August 4.  Three players were chosen by the coaches to represent the Tsunami for the all-star festivities: Nevalee Hawkins, Pitcher; Ava Regan, 3rd Base; and Chloe Wilson, Catcher.
The Tsunami were led by a group of girls who will move up to play 12U next season including the all-stars listed above, Ishvita Bali, Caitlin Fitzgerald, and Yukti Sharma.  The future is bright for the young 10U team with seven girls eligible to return in 2014:  Emma Benevento, 2nd Base; Jamie DaSilva, Right Field; Hanna Fray, Pitcher; Jasmine Fridman, Right Field; Neveah Sanchez, Center Field; Jadea West, 1st Base; and Katie Ziko, Right Field.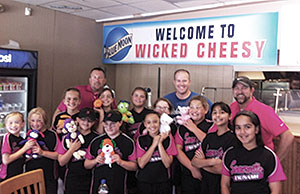 A program of the Somerville Youth Softball Organization, the Somerville Tsunami softball team is a summer travel team option for 10U and 14U eligible girls who were selected through tryouts or invited to play based on performance during the recreation season.  In its second year, the SYSO has launched an instructional league, competitive leagues for girls from 10-15, clinics, coaches training, a winter hitting clinic and will continue to expand programs through fall and winter programs this year.
The coaches and players would like to extend a big "Thank-You" to the SYSO and Wicked Cheesy in Tewksbury. Their generosity provided the Tsunami the opportunity to compete in the Year End Tournament in Tewksbury against tournament and regional teams from Massachusetts and Maine.  The strong competition was a great experience for the Tsunami girls who ended up losing twice to the eventual tournament champions the Southern Maine Flame.
The Somerville Tsunami would also like to extend a special thanks to the Somerville Youth and Recreation Department for their support, the Patch and Benjamin Moore for sponsorship.