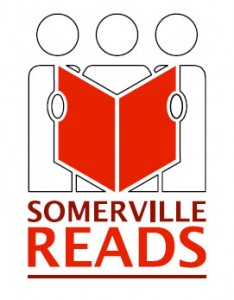 Mayor Joseph Curtatone and Maria Carpenter, Director of the Somerville Public Libraries, announced today that the City of Somerville will launch its fourth "One City, One Book" campaign in September 2013. Somerville Reads is a project that promotes literacy and community engagement by encouraging people all over the city to read and discuss the same book. The book selected for the 2013 project is The Art Forger by B. A. Shapiro, a page-turner of a novel that deals with the largest unsolved art heist in history. The robbery took place on March 18, 1990, when thirteen works of art worth over $500 million were stolen from the Isabella Stewart Gardner Museum in Boston. Claire Roth, a struggling young artist with her own scandalous past, is about to discover that that there's more to this crime than meets the eye.
Claire makes her living reproducing famous works of art for a popular online retailer.  Desperate to improve her situation, she lets herself be lured into a Faustian bargain with Aiden Markel, a powerful gallery owner. She agrees to forge a painting-one of the Degas masterpieces stolen from the Gardner Museum-in exchange for a one-woman show in his renowned gallery. But when the long-missing Degas painting-the one that had been hanging for one hundred years at the Gardner-is delivered to Claire's studio, she begins to suspect that it may itself be a forgery.
Claire's search for the truth about the painting's origins leads her into a labyrinth of deceit where secrets hidden since the late nineteenth century may be the only evidence that can now save her life. B. A. Shapiro's razor-sharp writing and rich plot twists make The Art Forger an absorbing literary thriller that treats us to three centuries of forgers, art thieves, and obsessive collectors.  It's a dazzling novel about seeing – and not seeing – the secrets that lie beneath the canvas.
"The Art Forger is a fascinating read that mixes local history with fine arts, thievery, and science," Carpenter said.  "We are absolutely delighted to feature this New York Times bestseller and present author Barbara Shapiro as our special guest at the Central Library on Wednesday, September 18th at 7:00 p.m. This event is free, refreshments will be served, and all are invited to attend."  You can register for the event online at http://bashapiro.eventbrite.com.
The Central Library will also host a free screening of Stolen, a documentary by Rebecca Dreyfus, on Wednesday, September 25 at 7:00 p.m. Stolen is a full exploration of the Gardner robbery and the fascinating, disparate characters involved: from the 19th century Grand Dame Isabella Gardner to the 17th century Dutch masters to a 21st century terrorist organization with a penchant for stealing Vermeers.
Copies of The Art Forger in a variety of formats are available for check out at all Somerville Public Library locations.