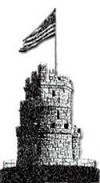 Nearly six years after a fire caused severe structural damage to East Somerville Community School causing its closure, the newly rebuilt school was officially opened to the public in a celebratory ceremony yesterday.
The impressive facility will serve the students of East Somerville and their families for years to come, and the sophisticated design will stand as a source of pride for the community.
The city and school district did well, keeping the construction costs relatively low and meeting their estimated deadline for completion to the day. Everyone closely involved in the process should be congratulated.
The new school will bring together students who were previously forced to attend four other area schools that served in the interim while reconstruction took place. The unification of East Somerville students will serve as a landmark event in the history of the district. The students themselves will benefit from being part of the breaking-in period for the new school, taking advantage of all that the new facility has to offer.
It has been a long journey, from tragedy to rebirth and renewal. Somerville can take pride in having done it right, and delivering what was promised and needed in a timely and completely professional manner.