Of 13 house fires in Somerville since June, four have been deemed arson and five suspicious fires remain under investigation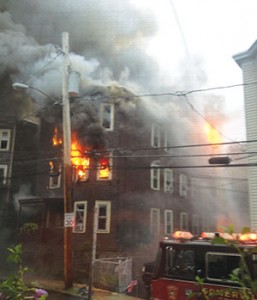 As the arson investigation into recent house fires in Somerville continues, Mayor Joseph A. Curtatone, Somerville Police Chief Thomas Pasquarello, and Somerville Fire Chief Kevin Kelleher are urging residents to remain vigilant in reporting any information that could assist the investigation. They also ask that all community members please read and heed arson prevention tips and safety tips posted to the city website's homepage at http://www.somervillema.gov/.
At a press conference today, city and state officials including Mayor Curtatone and State Fire Marshal Stephen Coan provided the community with an update on the ongoing investigation into recent fires that have occurred in Somerville. Since June 27, 13 house fires have occurred, the most recent of which occurred on Friday, Sept. 6, on Laurel Terrace and was immediately deemed to be clearly arson. Five other suspicious fires remain under investigation and four have been ruled accidental.
Somerville Public Safety officials are seeking information and assistance from the community to assist the investigation of these fires, and also urge all residents to carefully review and follow the specific arson prevention and fire escape and safety tips below.
"Our Police and Fire Departments are making use of every available resource for the investigation into these fires, and I want to thank State Fire Marshal Coan, the ATF and the FBI for their dogged dedication and assistance with this effort. But we need the assistance of the community as well, both in being our extra eyes and ears on the street and in taking some basic safety precautions," said Mayor Joseph A. Curtatone. "We have been more than fortunate that to this date no one has suffered significant physical injury, and we want to keep it that way."
Somerville Police and Fire are aggressively pursuing a number of leads and are continuing to work closely with both state and federal agencies on this investigation. Regular patrols have also been increased. Mayor Curtatone also announced today that a Somerville Arson Tip Hotline has been created and the City of Somerville reward for any information leading to the arrest and prosecution of any person involved with the setting of any of these fires has been raised to up to $20,000, in addition to The Arson Watch Reward Program, which is offering up to $5,000 (for a total of up to a $25,000) for any information leading to the arrest and prosecution. The Somerville Arson Tip Hotline number is 617-629-1847 (617-629-1TIP). The statewide Arson Hotline is 1-800-682-9229.
Residents are urged to use the arson prevention tips below, which include locking all windows and doors and removing easily flammable items from porches and outside the home such as upholstered furniture or yard waste. At some of the arson and suspicious fires, access may have been gained via the basement. At others, the fire was set outside the home.  "Please remain alert to your surroundings and report any suspicious behavior or information to the police. If you see something, say something," said Chief of Police Thomas Pasquarello. "Sometimes it's a neighbor glancing out a window or a piece of information that seems unimportant that can make all the difference in either preventing arson or solving it afterward."
Arson Prevention Tips and Fire Safety
Keep an Eye Out and Call It In: We Need the Community to Remain Vigilant
Report any suspicious behavior or persons to the Police Department immediately by calling 9-1-1.
Report any smoke or fires to the Fire Department immediately by calling 9-1-1. Don't assume someone else will call it in.
Contact the Somerville Police with any tips regarding any of the fires under investigation. No tip is too small:

Call our Arson Tip line 617-629-1TIP ( 617-629-1847 )
Contact the statewide Arson Hotline at 1-800-682-9229
Text tips anonymously by texting to the number "TIP411" ( 847411 ).  Put "617spd" at the beginning of your text message. If your message requires an emergency response PLEASE DO NOT TEXT and instead call 9-1-1.
Specific actions to help prevent possible arson:
Remove overstuffed furniture from porches
Remove all highly flammable items from outdoor areas close to your home, such as but not limited to:

piles of leaves or bags of yard waste
stacks of papers or recycling bins with paper/boxes
flammable liquids such as lighter fluid, gas, paint thinner, and other volatile liquids
candles including mosquito candles
charcoal, or grills with charcoal or gas cans
laundry (don't leave it hanging overnight)
rags or oily rags
highly stuffed seat cushions

Keep your home secure:

Lock all doors and windows including basement doors and windows
Lock your garage door (or remove flammable items from garage if it can't be locked)

Keep lighting on at night:

Leave both your front and back porch lights on overnight

Do not store trash or recycling under your porch:

Keep it farther from the house or inside until your trash day
Do Not Become a Victim of Any Fire: Tips to protect yourself, your family, and your home:
Check batteries in smoke alarms and ensure they are operating.
Have an escape plan and discuss it with your family or housemates: Plan two routes of escape from any room. Check the door handle of closed doors before opening. If it's hot, use your alternate exit if possible.
Pick a meeting spot safely away from the house.
In the event of fire, exit immediately. Do not stop to collect any belongings. Consider putting valuable or irreplaceable items in a fire-proof box now so you will not be tempted to look for them when escaping.
Know how to crawl away from a fire. When exiting, stay low because smoke rises. Smoke can weaken your ability to respond in an emergency or suffocate you.
Educate your children. They are likely to hide in a closet or under a bed during a fire if they haven't been told what to do.
Do not reenter a burning building for any reason.
Please be sure to share this important information with your neighbors, family and friends.