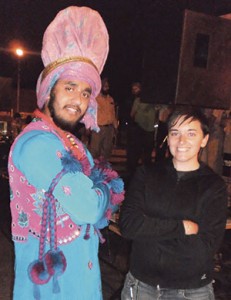 Utsav, a festival of Punjabi and Sikh Culture, is an event the Somerville Arts Council and the Boston Sikh Sangat Society hopes Union Square residents will call the cultural event of the year.
First held in 2010 it drew hundreds of people into the square with free food by the local gurdwara, bhangra dancing and sword-swinging gatka martial artists.
The word Utsav means "feast-day" and a lot of it is promised. Free plates of food and cold sodas and water will be handed out by event co-producers Gurdwara Sikh Sangat Society early on during the event. Later on local restaurant Dosa n'Curry will have the opportunity to sell their dosas (Indian crepes filled with potatoes and paneer), masala, and the ever-delicious mango lassi.
There will be a religious ceremony complete with kirtan music to demonstrate the Sikh culture and encourage anyone who would like to join the gurdwara. Following the demonstration will be the brightly adorned bhangra team Sadi Sheran Naal Yaari and a giddha team of traditional Punjabi dancers. Then be prepared to be amazed by the gatka martial arts performance as they impressively swing swords, fight with sticks, and occasionally cut a watermelon in half while being blind-folded.
In addition to all the above fun there will be a Try-On-A-Turban or Sari booth, yoga demonstrations from the Millis Gurdwara, several vendors selling saris, and a woman doing mehndi hand painting.
The event takes place Saturday, September 7 (Rain date: Sat., Sept. 14), 4–8 p.m., Union Square Plaza.