By Joe Beckman
(The opinions and views expressed in the commentaries and letters to the Editor of The Somerville Times belong solely to the authors and do not reflect the views or opinions of The Somerville Times, its staff or publishers)
To me, as a long term member of committees dealing with the Green Line, school reform, and affordable housing, the current process for the High School seems naive: well-intended, but not connected with the needs of either the city, the kids, or the parents. Plans developed in silos risk being hit by missiles. This will be one of them.

Continue reading »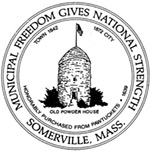 Tomorrow, Friday, June 24 at 5:00 p.m. the electrical power at Somerville City Hall will be shut down to perform upgrades to the main electrical panel. We anticipate services being down for 90 minutes.

Continue reading »
~Photos by Claudia Ferro
East Somerville Community School's annual Moving On ceremony took place on Friday, June 17. Kindergartners held the hands of 8th graders and walked them into the auditorium as a symbol of leading them onto the next part of their life, high school. Superintendent of Schools Mary Skipper was in attendance, as was Ward One School Committee member Steve Roix, State Representative Tim Toomey, and Alderman at Large Mary Jo Rossetti.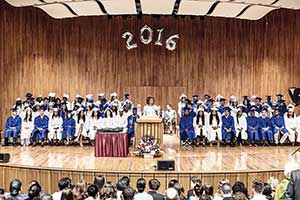 On Sunday, June 5, Prospect Hill Academy celebrated the graduation of the Class of 2016 during commencement ceremonies held at MIT's Kresge Auditorium.

~Photos by Donald Norton and Kevin Dickinson
The Somerville Auxiliary Fire Department kicked off its 75th Anniversary celebration on Saturday with former and active members, as well as with Boston's Auxiliary Unit 10 rehab and other auxiliaries in the area. A gift of thanks was also presented to former secretary for civil defense and emergency management Josie Carr for all her commitment and work she has done throughout the years for the city.
By Jim Clark
Police responded to a Memorial Rd. residence last week on reports of a stolen bicycle.
Upon arrival, the officers were told by the mother of the victim, a juvenile, that her daughter's bicycle was stolen by an individual who the woman was familiar with, police said.

By Mayor Joseph A. Curtatone
(The opinions and views expressed in the commentaries and letters to the Editor of The Somerville Times belong solely to the authors and do not reflect the views or opinions of The Somerville Times, its staff or publishers)
By any measure, business is booming in Somerville. We have added 247 net new businesses during the past two years. The largest employer in New England, Partners Healthcare, is building central offices in Assembly Square. Our local restaurant and hotel excise taxes are estimated to rise by more than 13% each during the next year. More than half of our new tax levy growth is coming from commercial sources. Yet we are still in the early phases of Somerville's commercial boom. For instance, we estimate the Green Line extension will spur the creation of 30,000 new jobs along the extension over the next 30 years. This means, Somerville is poised for some very exciting and challenging transformations in our former industrial zones—and we need an updated zoning code to ensure it brings the benefits we've planned and hoped for.

Continue reading »

~Photos by Bobbie Toner
Mother Provincial Alice Marie paid a special visit recently to the Little Sisters of the Poor Jeanne Jugan Residence in Somerville. She is the new Mother Provincial for what is called the "Brooklyn Province" which includes nine Little Sisters of the Poor Homes in the northeastern part of the country including New England, New York, New Jersey and Pennsylvania.
By Josie Grove
The Somerville Police Department will be buying guns this Saturday, June 25 from 9:00 a.m. to 1:00 p.m. at the Department of Public Works, 1 Franey Road, Somerville. The gun buyback aims to get unwanted guns out of homes, with the goal of reducing gun-related accidents, suicide, and gun violence, particularly domestic violence, in Somerville.

Continue reading »
By Jim Clark
The Finance Committee of the Somerville Board of Alderman, Committee of the Whole, is wrapping up more than a week's worth of intensive discussion and debate over the city's Fiscal Year 2017 budget.

Continue reading »