~Photos by Bobbie Toner
More than 3000 runners, joggers and stroller families of all ages and abilities gathered on Thanksgiving Day for the 20th Annual Gobble Gobble Gobble Thanksgiving Race. All proceeds benefit Project Soup as well as Somerville Track PAC.
Go to http://www.coolrunning.com/results/16/ma/Nov24_20thgo_set1.shtml for race results.
~Photos by Claudia Ferro
More than 100 crafters from around New England gathered to sell their wares at the Somerville High School Track PAC's 25th Annual Holiday Arts and Crafts Fair last Saturday.
By Joe Ruvido
The Board of Aldermen unanimously approved the property classification and residential exemption recommended by the City Assessor at their meeting on Tuesday November 22.
The Board heard a presentation by Marc Levya, Chief Assessor or Somerville. Per Massachusetts Law, commercial and residential property values and the processes that determine those values need to be reassessed every three years. The city uses these assessments to calculate the projected amount of property taxes they will collect to finance the city budget. The city cannot run a fiscal deficit so the valuations are an important step in financing city operations.

Continue reading »
By Manna Parker
The intersection of Pearl and Medford Streets is adorned by colorful stairs. Rainbow tread marks lead to the steps where three old cars are painted in bright colors by local artist Liz LaManche.
The name of the mural written below the steps, The Soul's Journey As A Series of Weird Old Cars memorializes the late Al Riskalla.

Continue reading »
Don't forget to park on the EVEN side of the street this winter during snow emergencies. The Board of Aldermen voted to alternate every year, and this year it is the EVEN side. So scramble to get your spot as soon as they declare. Hopefully, the city won't be calling any false alarms. Commissioner Stan Koty will give the signal when it's about to snow.

Continue reading »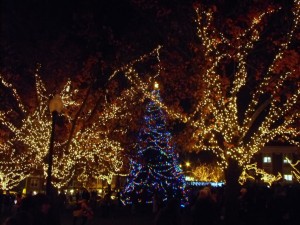 Join Mayor Curtatone and city staff for Somerville's annual holiday celebrations, kicking off on Thursday, December 1, with the Christmas Tree Lighting and visit from Santa Claus, on the City Hall Concourse. Also part of the 2016 events are the Somerville Arts Council's Illuminations Tour on December 17, and a ceremonial lighting of a Menorah on the City Hall Concourse on December 24.

Continue reading »


*
Here's a side dish that is easy to prepare and is packed full of flavor. The addition of the lemon zest and juice brightens up the dish. This is a perfect throwback side that will have your guests craving more.

Continue reading »
By Donald Norton
Before I begin, this is not a commercial for this or any other diet. I have no interest in the ownership of this diet that I am about to talk about. The results might be different, depending on the individual. I can only affirm what my experience is or was.
Getting old is not a good thing sometimes, but getting old and gaining weight is harder to lose than when you were younger. You keep saying to yourself, "If only I could just lose 20 to 30 pounds, I would feel much better."

Continue reading »
By Nathan Lamb
(The opinions and views expressed in the commentaries and letters to the Editor of The Somerville Times belong solely to the authors and do not reflect the views or opinions of The Somerville Times, its staff or publishers)
For many of us, Thanksgiving is probably some welcome time off. But for some it was also a chance to give back, by volunteering to help Somerville-Cambridge Elder Services (SCES) make Meals on Wheels deliveries.
All told, 46 volunteers stepped-up for Meals on Wheels on Thanksgiving, allowing our regular drivers to enjoy the day off. Our thanks go out to the volunteers who made that possible, and to staff members who chose to come in and help out.

Continue reading »
By Rebecca Danvers
Students from Somerville High School took part in a conference held in Marlboro, MA, November 19–22.
SkillsUSA is a partnership of students, teachers and industry working together to ensure America has a skilled workforce.