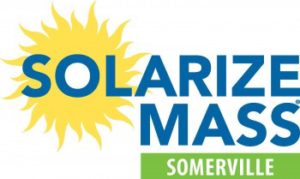 City's Solarize Somerville initiative earned a 5 kW system donation for exceeding home solar installation goal in 2016
One local nonprofit will soon be on a no-cost path to renewable energy. The Solarize Somerville initiative to help residents install solar panels concluded in December 2016, and as a result of exceeding our goal, the City's install partner SolarFlair will donate a 5 kW system to a local nonprofit.
Continue reading »
~Photos by Bobbie Toner
A rally took place last Thursday in opposition to Federal Realty Investment Trust's (FRIT) proposed alternative to the city's 20% affordable housing requirement. The rally, which took place at Somerville City Hall, was sponsored by Somerville's Affordable Housing Organizing Committee, Cambridge Somerville for Change, Indivisible Somerville, Our Revolution Somerville, Somerville Community Corp., Union United and The Welcome Project.

By Joseph A. Curtatone
Last week in Somerville, we hammered out a solution that will create new housing in Assembly Square and, ultimately, 80-93 new affordable housing units at Assembly and throughout the city. It marks a tangible result for people who care about expanding the amount of affordable housing in our community. Some people feel raw about that outcome because they wanted more, but the reality is the advocacy on this issue helped us achieve what we did.
Continue reading »
Mark your calendar for Thursday, June 1, at the Cantina La Mexicana in Union Square. The very popular Alderman At-Large Bill White will be holding his campaign kickoff/fundraiser. Bill has been known as one of the smartest alderman on the board, even by his fellow aldermen. He's been elected and re-elected as President of the Board now for a few years. We think Bill has been a good alderman for the people here in the city for many years and hope he continues. So come out and show your support for him. We think Bill is very dedicated to the city and who crunches the figures better and asks the right questions when budget time comes around.
Continue reading »


*
One of the most recognized dishes of Italy, pasta fagioli or the phonetic version, pasta fazool, is simply delicious and satisfying. This "peasant" dish can be prepared and cooked in a short period of time and makes a great starter for a small dinner party. It can also be served as a main dish with a side of crusty bread for mopping up the sauce, also known as Scarpetta. This recipe can be easily adapted to make it vegetarian.
Continue reading »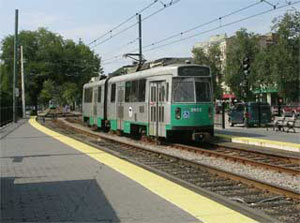 The MBTA Green Line Extension (GLX) Project Team has released the Final Request for Proposal (RFP) for the GLX Design Build (DB) contract to the three shortlisted DB teams that were identified in February of this year. The Final RFP includes an Affordability Limit of $1.319 billion, base scope of work, and "Additive Options." Additive Options will only be included in the project scope should teams affirm that the Options can be completed within both the Project schedule and the Affordability Limit. Responses to the Final RFP will be submitted by the three DB teams in September 2017.
Continue reading »