Why is it that a duck has all the luck? Poet J. C. Foritano has the answer
Home Rule Petition makes Somerville's the largest exemption in the State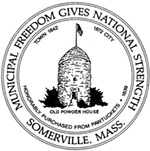 It's official. Homeowners who live in their Somerville property will now receive the highest property tax exemption in the state after Governor Deval Patrick signed new legislation this week that had previously been approved by the Somerville Board of Aldermen in March 2014. The legislation increases Somerville's residential exemption from 30 percent to 35 percent, and the new rate is retroactive to July 1, 2014. The City continues to explore increasing exemptions for seniors, veterans, widows and those with disabilities, groups that are already offered exemptions in Somerville at double the state limit.
Combined Partners & Federal Realty Investment Trust payments estimated to yield $1.7M to $2.2M in annual City revenue from former IKEA parcel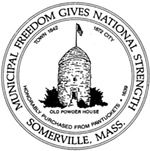 The City of Somerville and Partners HealthCare have signed a Community Services Understanding through which the tax-exempt nonprofit healthcare provider has agreed to make annual payments to the City as a municipal services contribution for the offices they plan to build on the former IKEA parcel in Assembly Square. The agreement also stipulates that Partners will engage in good faith efforts to make employment opportunities available to Somerville residents, and that their general contractor will enter into a Project Labor Agreement for construction.
Artists, consciously or unconsciously, dabble in magic. They borrow signs and symbols, and plant symbolic language, like seeds, into our hearts and minds to offer us new perceptions, and how this happens is…well, a little like magic. To the searching viewer an art work may yield the secrets of the artist's craft without losing its "magical" power. Is this what separates real magic from mere trickery? Does the difference matter?

Continue reading »
Arrests

:


*

Jean Morisset, 30, of 33 Lexington Ave., August 19, 12:20 p.m., arrested at 220 Washington St. on a warrant charge of miscellaneous municipal ordinance violation.

Benjamin King, 28, of 15 Dudley St., Medford, August 19, 5:35 p.m., arrested at 85A Broadway on a warrant charge of larceny over $250.

Continue reading »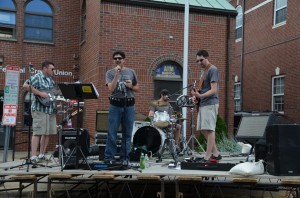 Grab your instrument and your dancing shoes, and get ready to help the City celebrate the latest installment of its SomerStreets series with 
Strike Up the Bands @ SomerStreets
 on Sunday, September 7 on Holland Street! From noon to 4 p.m. between Davis Square and Teele Square, free, family-friendly activities and entertainment will include live music at Johnny D's Uptown and Rudy's Café as well as children's activities, family-friendly programming, and student-friendly fun (welcome back, students!) throughout the afternoon.
Continue reading »
By Kenneth Gloss
As popular as coffee-table books are today, showcasing everything from royal weddings to horses to Adirondack style furniture, it's hard to imagine that at one time photographs in books were rare. Photographs first appeared in books in the 1840s. At that time, there was no such thing as mass printing of photographs, so each one had to be pasted into the individual books by hand. Of course, these books would have been very expensive, so it was quite rare for a book to contain photographs until technology automated the task and brought down the cost.

Continue reading »
Somerville brothers Sean and Brady Sullivan finished another year of school with perfect attendance. This was Sean's seventh straight year of perfect attendance, having last missed a day of school in 2007 when he was a first grader at Winter Hill Community School. Sean also played on the Somerville High School JV hockey and baseball team, as well as Somerville youth hockey and soccer.

Continue reading »

Food, music, arts, kids' activities and more bring two of Somerville's largest communities together
Somerville's Haitian and Brazilian communities are coming together for "Haiti and Brazil Hit The 'Ville," a cultural festival on Sunday, Aug. 24 featuring music, dance, food, family-friendly activities and more for the entire community, hosted by the Somerville Arts Council's ArtsUnion Project in partnership with the City of Somerville and SomerVIVA, the City's language liaisons program.

Continue reading »

Life in the Ville by Jimmy Del Ponte
(The opinions and views expressed in the commentaries of The Somerville Times belong solely to the authors of those commentaries and do not reflect the views or opinions of The Somerville Times, its staff or publishers)
I hope you enjoy this story by my friend Anthony Accardi Jr.
Another summer is winding down and soon we will be moving onto fall and then … ugh, winter. I can't help but remember growing up on Heath St. and the all the fun my friends and I had during the summertime. Thinking back, it always seemed like it was the summer. Except for sledding down Heath St. and of course the Blizzard of '78, I can hardly remember it ever being cold and miserable. Since I absolutely hate the winter, maybe I have blocked most of those memories out. Or maybe like most childhood memories, it was just a time when it always seemed like summertime.

Continue reading »