By Tom Bannister
The Somerville Youth Soccer League (SYSL) has announced two winter soccer programs being offered by Somerville Recreation and SYSL beginning next Saturday, December 13. The program details are as follows:

Continue reading »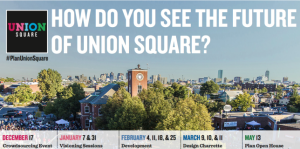 Formal agreement requires funding of community-driven planning process, creation of community benefits agreements
A community-driven master planning process for Union Square and Boynton Yards and the creation of a community benefits agreement that will result from new development are among the requirements of a signed formal agreement between the Somerville Redevelopment Authority (SRA) and Union Square Station Associates (US2). Additional items in the agreement include coordination with the MBTA on new private development alongside the Green Line Station and valuation and disposition terms for all seven development blocks.

Continue reading »
By Douglas Yu
Vinfen outlined an improved action plan to make sure Somerville residents' safety at the latest public safety meeting on the matter at Winter Hill Community School on Dec. 2.
— Photos by Claudia Ferro
The annual tree lighting ceremony took place on Dec. 4 on the City Hall Concourse, followed by a meet and greet with Santa Claus in the Somerville High School Highlander Café.
Santa Claus was escorted by the Somerville Fire Department for the ceremony and was available for photos following the tree lighting. All children attending the ceremony also received a gift from Santa. Live entertainment for the event featured the Somerville High School Band and Orchestra, the Somerville Community Chorus, and El Sistema Somerville.
Refreshments were served at SHS.
Don't forget the Christmas tree and wreath sale at Foss Park. The proceeds go to the Next Wave and Full Circle Alternative School here in the city. Please consider stopping off and helping the kids out and buy your tree locally.
Continue reading »
By Gabriela C. Martinez
The Somerville Winter Farmers' Market is back for its fifth year at the Arts at the Armory, 191 Highland Ave.
The market will be open every Saturday from 9:30 a.m. to 2:00 p.m. until March and it will include produce vendors from previous years, such as Winter Moon Farm, Heron Pond Farm, Misty Brook Farm (which also has grains and meat) and Apex Orchards.

Continue reading »
By Douglas Yu
Assembly Row is already one of the biggest construction projects in the state. In addition, however, Assembly Row developer Federal Realty kicked off the construction of 750,000-sqaure-foot office headquarters for Partners Healthcare on Monday, Dec. 1.

Continue reading »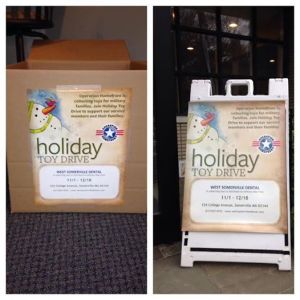 By Rebecca Danvers
A toy drive to benefit children of military personnel is taking place now through Dec. 18. The effort is sponsored by Operation Homefront and is being represented locally by West Somerville Dental, here in Somerville. Donations of toys can be brought to West Somerville Dental office at 124 College Ave.

Continue reading »

Eagle Feathers #67 – Anderson's Train
By Bob (Monty) Doherty
Charlestown, established in 1628, is older than Boston. It originally covered ten towns before it split and annexed itself to the capital city, taking 200 years to accomplish.

Continue reading »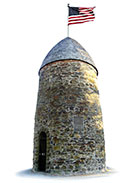 Roll out the red carpet and start hanging the tinsel. Here comes the holiday shopping season once again, and we are ready to embrace the opportunity to celebrate the only way we can: with enthusiasm and optimism.

Continue reading »